We spent about a month this past spring exploring the town of Canon City, which is located an hour south of Colorado Springs. What we loved most about our travels here is that there are so many great outdoor adventures within an hours drive and many adventurous things to do right in town. Here are some of our favorite sports, adrenaline filled activities, and touristy things to do in Canon City.
Best Time To Visit Canon City
If you want to get the most out of the area, fall is the best time to visit Canon City. However, there are plenty of things to do year round. The number one thing that brings our family to Canon City is the rock climbing in Shelf Road. We've been there in the summer and while it is quite hot, you can always chase the shade. We've also been there in winter and have hiked out to the walls through the snow yet been able to climb in tee shirts. Spring time is when we were there last and while we still had a great time, the wind was intense and many times we couldn't go out to climb, bike, or do the adventures at Royal Gorge because of it.
Average Weather In Canon City (average precipitation)
January high 49, low 19 (.5″)
February high 50, low 21 (.5″)
March high 57, low 27 (1″)
April high 64, low 34 (1.5″)
May high 73, low 43 (1.5″)
June high 83, low 52 (1″)
July high 89, low 58 (2″)
August high 86, low 57 (2″)
September high 79, low 48 (1″)
October high 68, low 37 (1″)
November high 57, low 27 (.5″)
December high 48, low 19 (.5″)
Find the Best Hotel Deals in Canon City on Booking.com
Favorite Adventurous Things To Do in Canon City
1 | Rock Climb at Shelf Road
Like I mentioned, this is what always brings us to Canon City. Shelf road is a world class destination with over 1000 routes on amazing limestone. Shelf Road is about 30 minutes north of town. There are two main climbing areas that require driving down dirt roads to get to.
Sand Gulch is pretty short and most 2wd vehicles can make it unless there has been a lot of rain and the road is rutted out. I've taken my 30′ Class C motorhome here and it was fine.
The Bank is a much steeper and windier dirt road. I've seen some people take their very short trailers up to the campground here. Again 2wd is usually fine unless there's been a lot of rain.
2 | Camping Under The Stars
There are the 2 great campgrounds at Shelf Road (mentioned above) but if you are looking for a nice RV park near Canon City, your best bet is to go east a little to Royal Gorge and stay at Mountain View RV Resort. We've stayed there before and loved that it lives up to its name with great views of the mountains. It is close to all the adventures in Royal Gorge, and is big rig friendly. They have free hot showers, full hookups, and the sites are very well maintained.
Other than these, there are a few RV parks on the outskirts of town that are mostly for monthly stays. There is also Pueblo Reservoir which has a State Park Campground but that is almost an hour away from Canon City.
3 | Royal Gorge Park Suspension Bridge
This is the Colorado's Iconic suspension bridge and a very popular tourist attraction. We finally had the opportunity to check it out when we were there in April and did the Zipline, Ariel Tram, and the Sky Coaster. They were incredibly fun and if you love roller coasters, I highly recommend giving the Sky Coaster a GO!
There is also a Via Ferrata which we skipped since we already climb a lot, but it looked really fun too. The Zipline is pretty tame however, if adrenaline is not your thing then just walking across the bridge and peering over the edge or riding the gondola 2,400 feet above the canyon floor should be enough fun for you.
There's also a nice playground and carousel for younger kids and the park is open 365 days a year however some days they do have to close the rides for high winds.
4 | Drive Skyline Drive
We used to only travel in our class C and would miss out on things like this but now we have our truck and it was so much fun to get to drive this narrow, one lane road with epic 360 degree views of Canon City and surrounding area.
Just enter Skyline Drive in your GPS and you'll easily find the starting point. If heights scare you, you'll want to skip this drive or at least not be in the passenger seat.
5 | Whitewater Rafting
A great way to enjoy the summer in Canon City is to sign up for a whitewater rafting adventure. There are numerous guides located near Royal Gorge that will take you on an exhilirating journey down the Arkansas River.
Click here to get the best deal on whitewater rafting trips in Canon City
6 | Arkansas Riverwalk
In the center of town is a flat, wide 7.5 mile one way trail that is great for walking, running, and mountain biking. You can access the Arkansas Riverwalk trail at Centennial Park, Sell's Lake, MacKenzie Avenue Trailhead, and Tunnel Drive.
Our family loves to go down to the riverwalk and workout at the numerous fitness stations along the path. This trail is dog friendly too.
7 | Tunnel Drive
To get here, park at the Tunnel Drive Trailhead and it's a short hike uphill to get to the 3 tunnels, which were built for the city's water delivery system in the late 1800s. The entire trail is just under 2 miles one way and has beautiful views of the river below.
You may even catch the Denver & Rio Grande Railroad as the Royal Gorge Route train passes along this stretch of the river or see some bighorn sheep on the mountain sides. You may want to combine this adventure with Skyline Drive as they are minutes from each other.
8 | Mountain Biking
Canon City area is famous for its mountain biking trails and I was so bummed that we didn't have our mountain bikes with us when we were there in April so we hiked the South Canon Trails from the Eagle Wing Trailhead.
Some of the trail networks in the area include: Hogsback Open Space, South Cañon Trails, Oil Well Flats, and Royal Gorge Park. You can rent mountain bikes at Bikes + Brew in town.
Related Blog: Best Mountain Biking Canon City (coming soon)
9 | Via Ferrata at Buckskin Crags
This is an awesome via ferrata the whole family can do that is free!
The Buckskin Crags were created for the residents of Royal Gorge Ranch & Resort however, the public can access The Buckskin Crag's Sweet Spot by starting out on the Made in the Shade trail (parking off of CR3A). See mountain project for all the beta.
You'll need a harness, preferably climbing shoes although not necessary, and a lanyard. Disclaimer: Via Ferrata's can be dangerous so climb at your own risk and be safe out there. Also be respectful of the area so that it remains open to the public.
10 | Go Hiking
There are numerous hikes to do in the Canon City area with the top 10 according to AllTrails being:
Tunnel Drive: easy, 3.9 miles
Royal Gorge Overlook Loop: easy, 1.5 miles
Arkansas River Canyon Rim, Canon Vista, & Far Out Loop: easy, 6.1 miles
Redemption Trail: easy, 3.6 miles
Royal Gorge Canyon Rim: moderate, 3.9 miles
Arkansas Riverwalk Trail: easy, 11.1 miles
Oil Well Flats: moderate, 12.8 miles
Skyline Drive: moderate, 2.8 miles
Fremont Peak: easy, 3.2 miles
Tanner Trail: hard, 12.2 miles
11 | Float or Surf
When the river warms up in the summer you can float the Arkansas river in innertubes or head west to the Pueblo's White Water Park.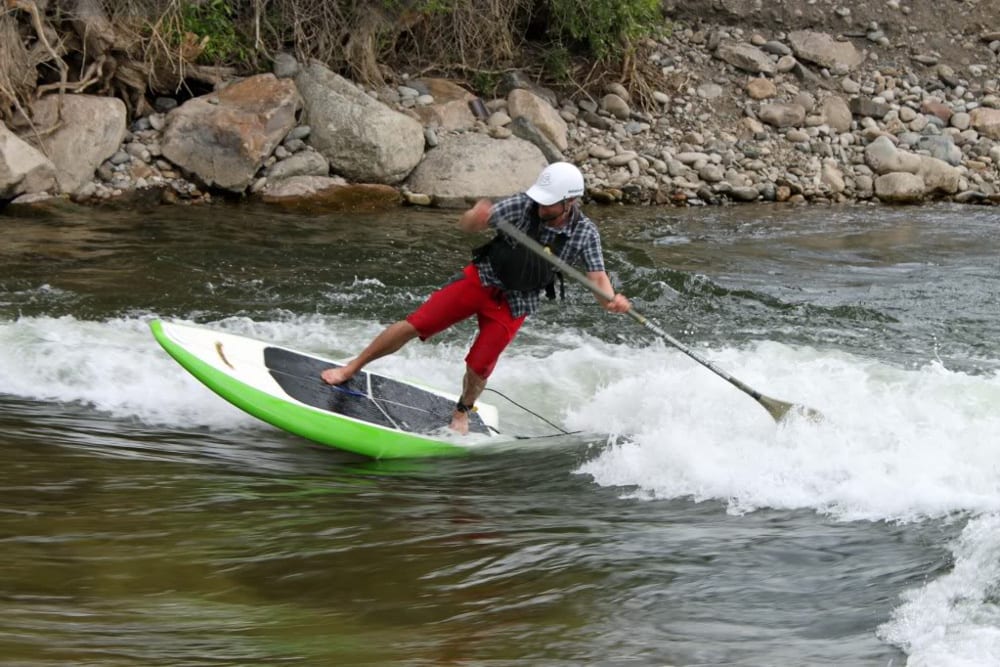 Pueblo is only a 45 minute drive and has one of the coolest adventures…river surfing! River surfing is a mix of traditional ocean surfing and wake surfing that you would do behind a boat. We've tried it before in Germany and again in Bend, Oregon and let me just say that it was much more difficult than I expected but worth learning if you love challenge and adventure.
12 | Fly Fishing
I can't say I have first hand experience with this however I know a lot of people who absolutely love it and Canon City is a great place for fly fishing.
13 | Helicopter Tour
How cool does this sound? Royal Gorge Helitour's highly experienced pilots will take you on an epic ride above Royal Gorge
14 | Jeep Tour
Check out this Fall Foliage 4WD Tour that takes you 5,000 feet above Canon City into the high gold mining districts to witness the yearly color change of the aspens on this full-day tour.
15 | ATV Tour
Explore the beautiful Arkansas River Valley and the Texas Creek Trail System from behind a quad.
Touristy Things To Do In Canon City
If adventure isn't really your thing, don't worry. Canon City has a ton of great things to do that keep your feet on the ground or butt in a seat that won't require sheer drop offs or extreme dumps of adrenaline.
16 | Holy Cross Abbey + Winery
Go explore the beautiful grounds of the Benedictine Fathers and enjoy a flight tasting of the multi-award-winning Colorado wine. The tasting room is open daily.
17 | Robinson Mansion for Tea
If wine isn't your thing, maybe afternoon tea is. Every Sunday at noon in the summer, the Robinson Mansion (now renamed the Royal Gorge Mansion) serves up tea served in English-style porcelain tea pots, and a 3-tiered curate of dainty and delicious finger sandwiches, petit fours, and house-baked scones served with Devonshire cream, locally sourced jams and whipped butter.
18 | Royal Gorge Railroad
Hop aboard the Royal Gorge Route Railroad and experience a one-of-a-kind adventure through the Royal Gorge and Colorado Rockies. Trains depart 4 times a day from the Santa Fe Depot in Canon City. Be sure to check out the award-winning Murder Mystery Dinner Trains, First Class Lunch and Dinner Trains, offering a romantic, multi-course culinary delight, along with a selection of award-winning wines from around the world.
19 | Segway Tours
Check out the city's architecture and historical points of interest from a segway.
20 | Museum of Colorado Prison
Okay this was a little creepy to me but I'm sure history buffs will love learning more about the Colorado prison system and past inmates.The museum is open in May through September Monday through Sunday 10 am- 6 pm and Wednesday through Sunday 10 am- 5 pm the rest of the year.
Family Friendly Things To Do In Canon City
21 | Get Wet at the Splash Pad
Centennial Park is a nice way to spend a few hours in Canon City. Young kids will love the playground, splash pad, and feeding the ducks.
22 | Visit Fossil Discovery
Canon City and neighboring Royal Gorge have plenty of fossil fun for the dinosaur lover of the family. Check out the Royal Gorge Dinosaur Experience, Garden Park Fossil Area, or Indian Springs Trace Fossil Natural Area.
23 | Farmer's Market
Get local and organic produce and meats, baked goods, and other artisan foods at the Canon City Farmers Market every Tuesday 8am-1pm from June through October. Located at 211 South 3rd St.
24 | Gold Mine Rock Shop
Purchase crystals, rocks, gems, fossils, minerals, gifts, souvenirs, jewelry, and gold panning equipment at the Gold Mine Rock Shop in Royal Gorge.
Day Trips From Canon City
25 | Cheyenne Mountain State Park
Cheyenne Mountain offers 28 miles of hiking and biking trails as well as an archery range. It has a beautiful campground that is open year round.
26 | Drive The Westcliffe Loop
Many people we talked to recommended the scenic drive out to the western town of Westcliffe, which is surrounded by majestic mountains. bEsides the great views, many visit here for the hiking, fishing, camping, horse back riding, bird watching, and technical climbing.
From Canon City, head west out of town and then go right (south) on Hwy 67 through Florence and on to Wetmore. Go right (east) on Hwy 96. About an hour after leaving Canon City you'll arrive in Westcliffe. After exploring the area, make it a loop by driving north out of Westcliffe on Hwy 69 and then right on Hwy 50 to get back to Canon City.
27 | Drive to Cripple Creek & Victor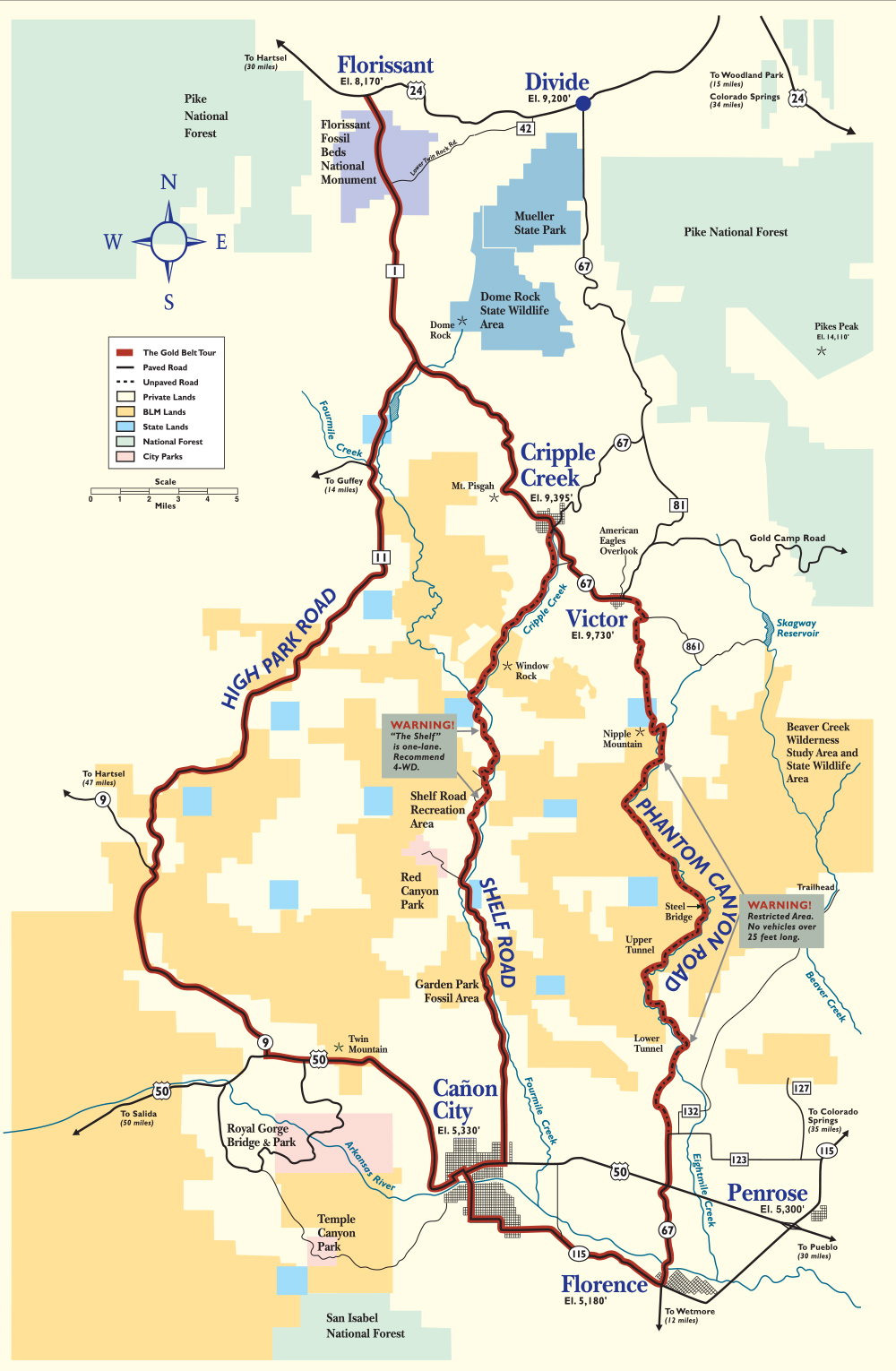 An even more popular drive from Canon is the Gold Belt Byway. This takes you north to Cripple Creek & Victor, which is the site of the world's largest gold rush. While there, check out the casinos, shops, restaurants, or maybe go for a train ride.
Since eating out and shopping aren't our thing, I recommend checking out the Pancake Rocks Trail instead.
The easiest way to drive to Cripple Creek is by taking Hwy 50 west past Royal Gorge then turn right (north) on Hwy 9, right on High Park Road, right on County Road 11, and then right on Teller County Road 1. Before turning onto Teller County Road 1, you may want to go north to Florissant Fossil Beds National Monumment.
For more adventure, you can drive the bumpy dirt road past Shelf Road, which is also a popular mountain biking route. The Shelf Road route has some sections that are one lane and require 4wd.
Another adventurous route is to take Phantom Canyon Road, which also requires 4wd as well as no vehicles over 25 feet long. There are 2 tunnels and a steel bridge along the way.
28 | Florissant Fossil Beds National Monument
Explore the geology and fossils of one of the richest fossil deposits in the world.
29 | Hike The Famous Barr Trail
This one is on my bucket list! The Barr Trail starts in Manitou Springs and continues 13.5 miles to the summit of Pike's Peak. It takes anywhere from 8-14 hours one way and is extremely challenging. But, what I think is the best part is that once you get to the top, you can shuttle back down and skip the down hilling.
30 | Garden of the Gods
Rock climbing is what first brought us to the Garden of the Gods, however, all nature lovers will enjoy visiting the unique rock formations and trails that wind through this beautiful landscape. The park offers numerous tours, a visitor center with junior ranger programs and much more.
31 | Summit Pikes Peak via the Cog Railroad
We did this years ago and the views were amazing from the summit of Pikes Peak at 14,115. Now, it would probably be too "chill" of an adventure for our family. This is the highest and longest cog railroad in the world and it takes you past 7 diverse biomes.
32 | Historic Manitou Springs
At the base of Pikes Peak is the historic Manitou Springs. here you'll find hiking trails, natural mineral springs, and a quaint downtown filled with boutiques, galleries, and restaurants.
33 | Conquer the Manitou Inline
We did this back in 2015 and I almost killed Victor hiking up the 2,744 steep steps. It is challenging for sure! It's only one mile in length but climbs 2,000 ft of elevation gain and is already at elevations so you'll want to have acclimated to the altitude before hand. Remember to wear layers, take it slow, and bring plenty of water. We always add this to our water when we do strenuous hikes! Unfortunately you do have to now make a reservation ahead of time in order to hike this.
34 | Manitou Cliff Dwellings
Step back in time and actually touch history. Yes, it's true, they actually encourage you to touch the structures as you walk through the 40 rooms and learn what it was like for the indigenous tribes living there 700 years ago. Learn more.
35 | Cave of the Winds
Brave the dark in this one mile long cavern. This is a great educational outing especially for homeschool families. You'll get to tour the cave and learn all about bats and geology when visiting the Cave of the Winds.
36 | Red Rock Canyon Open Space
Located next to Manitou Springs, this natural area is great for hiking, mountain biking and wildlife viewing.
37 | Seven Falls
Considered one of the most captivating natural wonders of Colorado and also called "The Grandest Mile of Scenery in Colorado." Seven Falls sits in a 1,250-foot-wall box canyon. Take in the view up close by climbing 224 steps or chase more adrenaline with the zip lines, ropes courses, or canyoneering.
38 | Cheyenne Zoo
Named #3 Best Zoo in North America by USA TODAY, kids and adults alike will love seeing the hippos, giraffes, otters, and more at the Cheyenne Zoo.
39 | Olympic Training Center
The U.S. Olympic & Paralympic Training Center offers year-round guided tours of the OPTC facilities. Tours begin with a video presentation and are followed by a walking tour of the Complex. The experience lasts approximately 1 hour. Monday-Saturday: Tours are conducted hourly, on the hour. The first tour begins at 9am, and the last tour departs at 4pm.
40 | Air Force Academy
Another popular tourist attraction in Colorado Springs, the Air Force Academy is open to visitors daily from 9am to 5pm. Kids will love participating in the scavenger hunt and viewing the diversity of wildlife that lives on the campus.
41 | Flying W Ranch
I think this this mountain cattle ranch is a cool place to visit. It was started back in 1947 and is a living symbol of Western Heritage, embodying the romantic spirit of the Old West. For dinner, they serve a spread of smoked meats followed by a western stage show performed by the world-renowned Flying W Wranglers, the second longest-running western performance band in the world. There are also demonstrations including Navajo rug weaving, silversmithing, and horse shoeing. You can buy tickets here.
42 | Paint Mines Interpretive Park
Similar to what you see at Artist's Palette in Death Valley, these geological formations are colored in bright hues of pinks, blues, and yellows. The Paint Mines are located an hour and a half northeast of Canon City and are free to enter.
43 | Lake George 11 Mile Canyon
For more open space and outdoor adventure, you can head northwest from Canon City for an hour and explore the 11 Mile Canyon and Lake George area. This area is great for hiking, climbing, and off roading.
43 | Great Sand Dunes NP
This is a long day trip from Canon City (3 hours each way) but totally doable. Great Sand Dunes National Park is open year round however, spring and fall are the best times to visit. Popular things to do in North America's tallest sand dunes include hiking, sand boarding, sledding, and playing in the creek. You may want to stay and camp a night to experience a moonless night to experience this International Dark Sky Park's starry skies.
44 | Sign Up For A Race
Canon City is home to many running and biking races including the Royal 50 Mountain Bike Races, Run Blossom, Point Alta Vista Trail Races, and Rim to Rim.
Pin This To Your Colorado & Travel Boards: