Wyoming is a state of otherworldly natural beauty and in this blog, we're sharing the best hikes in Wyoming you've got to explore this summer!
I used to think of Wyoming as nothing more than cowboy state with wide open prairies…plus Yellowstone. Now, Wyoming is probably my very favorite state in the US of A (Idaho is a close second).
Maybe Wyoming is still a cowboy state and maybe that's what makes it so magical. It's vast, raw, rugged, and real. It's home to some of the world's most majestic and unique mountain ranges and the space in between feels like freedom.
With all the stunning mountains, there are so many amazing hikes to explore in Wyoming! Whether you're passing through Wyoming on your way to Glacier N.P. or to Mount Rushmore, stopping to explore is a must.
Wyoming Hikes Pack List, Trail Guides, & more! (& it's all free 😁)
14 Best Hikes in Wyoming
From hot springs to summits, and alpine lakes galore, here are the best hikes in Wyoming!
1 | Lost Twin Lakes
Distance + elevation gain: 13 miles, 3000′
Difficulty: Moderate to strenuous
Trailhead: West Tensleep Lake Trailhead
In terms of hidden gems, the entire Cloud Peak wilderness is as good as it gets! The Cloud Peak Wilderness between Ten Sleep and Gillette is a region of vast alpine meadows and mountains.
There are limitless backcountry adventures out here and it has one of the best Wyoming hikes. Lost Twin Lakes is a moderate 8-mile hike that brings you through beautiful meadows.
The journey is beautiful but the ending is unforgettable. You'll finish at a steel gray alpine lake surrounded by towering rock faces and mountain peaks. It looks almost like a mini Yosemite except you have it all to yourself most days!
2 | Delta Lake
Distance + elevation gain: 8.8 miles, 2300′
Difficulty: Moderate
Trailhead: Lupine Meadows Trailhead
Delta Lake is one of my all-time favorite hikes and unlike many of the other best hikes in Wyoming, it's not super long. This lake is an alpine paradise that sits beneath a sharp mountain peak!
Delta Lake is still strenuous and maintains a steep grade for the whole hike. At the end, it also contains boulder hopping and scrambling.
Bring a hammock and spend some time relaxing and taking in the view at the emerald blue Delta Lake.
Pro tip: Add this hike to our 1-day Yellowstone Itinerary.
3 | Cirque of the Towers
Distance + elevation gain: 24 miles, 4,000′
Difficulty: Strenuous
Trailhead: Big Sandy Trailhead
Cirque of the Towers is an iconic hike that's been on our bucket list for years! And we finally got to experience it this past year!!
This hike is commonly done as a multi-day backpacking trip however, experienced hikers could do it in a day. And as much as I loved backpacking it as a family, I probably would've just day hiked it if I had realized what a doable day hike it is.
The hike is known to be one of the greatest backpacking trips in the world which is probably why it can be slightly crowded. We did this backpacking trip on Labor Day weekend and while the parking lot was extremely full, the trail wasn't crowded at all and we had no trouble finding a great campsite.
Cirque of the Towers is located in the raw and rugged Wind River Range in central Wyoming. If you thought the Teton Range was harsh, you might be surprised by the weather in the Winds.
In fact, that's the biggest obstacle for hikers looking to explore the Cirque. You'll need to be adaptable to time a good weather section and getting to the trailhead is a long way from any major highway. On the bright side, no permit is required to hike Cirque of the Towers!
Be sure to read our ultimate guide to hiking the Cirque of the Towers.
4 | The Middle Teton
Distance + elevation gain: 13 miles, 6000′
Difficulty: Very strenuous
Trailhead: Lupine Meadows Trailhead
This isn't just any hike in Wyoming, this is THE hike of Wyoming. Now, it's important to note that this isn't a hike for the feint of heart. In fact, this hike is exclusively for highly experienced hikers and climbers as the route involves strenuous off-trail travel, Class 3 scrambling, a pre-dawn start, and many more factors.
The Middle Teton is by far the most difficult hike I've ever done surpassing the Tour du Mont Blanc, Maroon Bells, and The Enchantments but the REWARD is breathtaking. There are few experiences that can top the feeling of standing on the summit of the Middle Teton.
If you think you have what it takes, click here and check out our guide to hiking the Middle Teton.
5 | The Forks of Cascade Canyon
Distance + elevation gain: 13 miles (or 10 if you ferry both ways), 1100′
Difficulty: Moderate
Trailhead: Jenny Lake Visitor Center
The Tetons can be an intimidating place to go trek. The weather is harsh and the mountains are looming. Cascade Canyon is a surprisingly tame and easy hike that lets you experience the magic of being below the Tetons.
Cascade Canyon is 13 miles round trip but don't let the distance dissuade you. It's probably the most easy and gradual 13-miler there is. If 13 miles still seems like too much, you can opt to take the ferry boat across Cascade Lake at bthe eginning and/or end. This cuts off 2 miles on each side.
Don't forget to check out our list of the top 10 greatest hikes in Grand Teton National Park!
6 | Paintbrush Canyon
Distance + elevation gain: 19-21 miles, 4200′
Difficulty: Strenuous
Trailhead: String Lake Trailhead
Paintbrush Canyon is the most famous backpacking trip in Grand Teton National Park and is rightfully one of the best hikes in Wyoming! This backpacking trip is strenuous, stunning, and beautiful but the challenge is snagging an overnight permit.
P.S. Paintbrush Canyon is usually combined with Cascade Canyon since it's an equivalent return distance!
7 | Red Beds Trail
Distance + elevation gain: 3 miles, 400′
Difficulty: Easy
Trailhead: Devil's Tower Overlook
Devil's Tower is a place I didn't expect to be cool or exciting. When I first set my sights on this radical monolith, I was shocked by how beautiful it was! Devil's Tower totally looks like something out of a sci-fi movie and it's hard to wrap your head around how nature designed the pillar so perfectly.
When you visit Devil's Tower you have to go explore a hike rather than just stand at a crowded overlook.
The Red Beds Trail is the less popular option but worth exploring to see the Tower from all angles.
Pro tip: Head out on dirt road for a spectacular view of the tower from afar.
Related: 9 Best Hikes in the Black Hills + 25 Things to Do in the Black Hills
8 | Fred's Mountains
Distance + elevation gain: 3 miles (or 6 if you hike down), 1920′
Difficulty: Moderate
Trailhead: Grand Targhee Resort
This Wyoming hike is kind of a wildcard! Fred's mountain is the summit of Grand Targhee Ski Resort which is accessed via beautiful Driggs, Idaho. This hike is even included in our best hikes Idaho but technically speaking, it's totally on the Wyoming side of the border 🙂
Fred's mountain is a small peak that delivers the most amazing views of the backside of Grand Teton National park! The summit is accessed via a well marked trail at the Base Lodge of Grand Targhee.
I highly recommend doing this hike near sunset and you'll score amazing pink and purple tones in the sky surrounding the Tetons!
Related: Why You Should Visit Grand Targhee This Summer
9 | Colter Bay Lakeshore Trail
Distance + elevation gain: 2.5 miles, 85′
Difficulty: Easy
Trailhead: Colter Bay Trailhead
Chances are, you haven't heard of this short little Teton hike. The Colter Bay Lakeshore trail is super easy but incredibly beautiful, especially in the early hours of the morning!
Related: The 10 Best Hikes in Grand Teton National Park
10 | Mistymoon Trail
Distance + elevation gain: 12.5 miles, 1600′
Difficulty: Moderately strenuous
Trailhead: West Ten Sleep Trailhead
This hike is at the top of our list for summer 2022! Hidden among the previously mentioned Cloud Peak Wilderness, this trail brings you to yet another beautiful alpine lake!
Related: Get Our Free Adventure Resource Bundle
11 | Mammoth Hot Springs
Distance + elevation gain: 1.8 miles, 300′
Difficulty: Easy
Trailhead: Mammoth Hot Springs
Yellowstone is full of great sights but can very limited when it comes to actual hiking. Mammoth Hot Springs is one of the best sights in Yellowstone and actually has a bit of hiking involved.
This boardwalk loop takes you past a bunch of cool, colorful springs and steaming geysers.
Pro tip: Make it a stop on a Grand Teton to Glacier National Park road trip.
12 | Grand Prismatic Spring
Distance + elevation gain: .5 miles (or 2.5 from Fairy Falls), 0′
Difficulty: Easy
Trailhead: Grand Prismatic Springs Trailhead
One final noteworthy mention in Yellowstone is the iconic natural rainbow of Grand Prismatic Spring! One look at these photos and it's not hard to see why this is a must-do hike Wyoming. The colors that naturally occur here are unbelievable.
The only negative here is that its prime location among the tourist hub of Yellowstone makes it very crowded. Go early in the morning to enjoy the place with some more solitude or go see it from above by parking at the Fairy Falls parking lot and hiking to the lookout point.
13 | Medicine Bow Peak
Distance + elevation gain: 3.2 miles, 1240'
Difficulty: Moderate to Strenuous
Trailhead: Gap Lakes Trailhead
The views from the top of Medicine Bow Peak are not to be missed. This is an incredible hike that you really should make time for if you are near Laramie or Saratoga, Wyoming. While the climb is a leg burner, it is relatively short and provides you with 360 degree views of Wyoming.
You can make this hike a loop as we did and start at the West Lake Marie Trailhead and make it a 6.7-mile loop with a 1700′ elevation gain. While I normally would say longer is better, the backside of this hike isn't that great and I would've been happy just doing the peak as an out and back.
Related: The Ultimate Wyoming Road Trip Itinerary
14 | Lewis Lake, South Gap Lake, and Snowy Mountains Trail
Distance + elevation gain: 3.3 miles, 380′
Difficulty: Easy to Moderate
Trailhead: Gap Lakes Trailhead
This is an amazing bang for your buck hike. It's easy to get here, there's plenty of parking at the trailhead, there's even a campground at the trailhead, and the hike itself is relatively easy but has magnificent views of Medicine Bow peak, multiple lakes, and even a glacier. This is great fun for the entire family!
If you are feeling adventurous, combine this Lewis Lake and South Gap Lake with Medicine Bow Peak an adventurous 6.2-mile hike with 1500′ of elevation gain.
15 | Stough Creek Lakes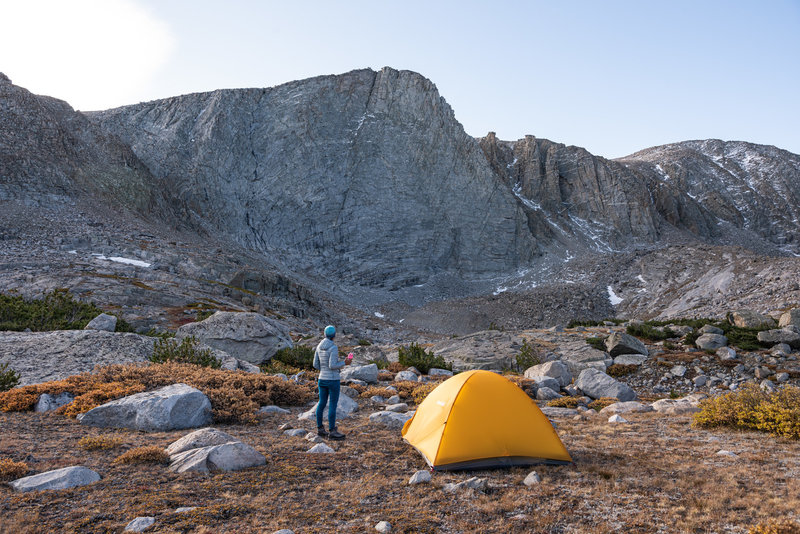 Distance + elevation gain: 14.7 miles, 2,570′
Difficulty: Strenuous
Trailhead: Sheep Bridge Trailhead
Located in Popo Agie Wilderness in the relative foothills of the Wind River Range, Stough Creek Lakes is a stunning glacial basin with stark mountain landscapes. The lakes are nestled beneath a beautiful rock cirque which includes the prominent Wind River Peak.
This semi-strenuous hike is accessed by driving up into the mountains from the outdoor haven of Lander, Wyoming. Though the trailhead is not hard to access, this hike is a rarely hiked hidden gem amongst the Winds.
16 | Popo Agie Falls
We spend a lot of time in Lander, Wyoming and there is an easy hike in Sinks Canyon to Popo Agie Falls that I recommend doing if you are in the area. It's never crowded and if you hike past the first waterfall, there's a fun rock waterslide you can do.
Related Blogs
---
Share the love! Pin one of the photos below to your Hiking or Wyoming boards!