Are you considering the Indy Ski Pass this year? Here's an overview of the 14 Indy Pass Resorts we visited this year with helpful tips for planning your visits to these amazing Indy Pass ski resorts.
We have been traveling in our RV since the spring of 2015, chasing the best outdoor adventures on a constant road trip. We love skiing and snowboarding but as full time RVers, it can be challenging trying to maximize our time on the slopes each winter while also balancing the cost of ski resorts with the fact that living in an RV in the snow can be quite challenging.
This year, we are excited to have Indy Ski Passes!
The Indy Ski Pass gives you 2 days at over 120 different resorts in the US, Canada, and Japan for a fraction of the price of the big ski passes like Epic and Ikon. Personally, I don't like to full time RV in one spot and was really excited to get to bounce around to different resorts while adventure traveling.
For the 2023/24 season, we chose to do a road trip to 14 different Indy Pass resorts mainly through the Rockies.
We are starting off from Missoula and zip-zagged our way through Montana, Idaho, Utah, Wyoming, and Colorado in search of powder and a few blue skies along the way.
I hope this helps you narrow down which Indy Pass resort is best for you. If you are on the fence on whether Indy, Epic, or Ikon is the best pass for you, read this blog where we compare the three passes.
Indy Pass Comparison
| | | |
| --- | --- | --- |
| | Indy Base Pass (has blackouts) | Indy+ Pass (with no blackouts) |
| Adults age 13+ | $279 | $379 |
| Kids age 4-12 | $149 | $189 |
See pricing details or buy your passes here
Best Snow Gear
Before I cover all the Indy Pass resorts we visited this year, download our free Adventure Resource Guide which includes our unbiased reviews of the best snow gear from high-quality brands like Woolx, affordable gear from Arctix, and more. It also has 6+ pack lists and trail guides for your summer adventures.
Indy Pass Resorts
Indy Pass Resorts In Montana
Lost Trail Powder Mountain
Vertical Drop: 1,800′
Number of Lifts: 8
Total Runs: 69
Indy Pass Blackout Dates: None
Lost Trail is located on the border between Montana and Idaho, about an hour south of Missoula.
We weren't quite as prepared for this resort as we would've liked. We had just drove 12 hours to get here and it was our first resort of the season.
To make it even more exciting, Isabelle had accidentally forgot her snowboarding pants and had to ride in leggings in under 20 degree weather with a wind chill around zero.
Unfortunately it meant we only got in about 5 runs in a few hours, however, those few hours were well worth the discomfort and next year I will be much better prepared to ski here longer.
Nearby Accommodations: The closest accommodation is Lost Trail Hot Springs, only 10 minutes from the resort.
Just a few miles further in Connor, there is this log cabin on a creek with 2 bedrooms, kitchenette, also has a hot tub, and is less than $200 a night.
If you are traveling with multiple families, this Bitterroot Valley Cabin looks amazing! It has 6 bedrooms that sleep 18, has a hot tub and the views are incredible!
And just a few miles further in Darby there is:
Staying in Missoula is only an hour away and allows you more access to restaurants and other outdoor activities.
RV Camping: If you are self-contained, you can park overnight here at the resort.
We camped at Granite Peak RV Resort in Missoula but that made it a 2-hour drive to the resort. Next time I would try to stay at Camp Sula or Traveler's Rest Cabins & RV Park.
Pros:
Incredible views of the Bitterroot and Salmon Chalis Forests and surrounding mountain peaks.
Friendly Montana vibe. Loved the music playing at all the chair lifts and the cheerful lifties.
Diversity of runs at all levels.
A lot of non groomer terrain.
Parking is right next to the ticket office, lodge, and lifts.
The snow was fabulous!
Cons:
The resort is at the top of the continental divide between Idaho and Montana so it's quite cold with extreme wind chill. Layer up!
Far from any towns, campgrounds, restaurants, and nightlife so it's not really a destination resort like Breckenridge or Alta.
Blacktail Ski Resort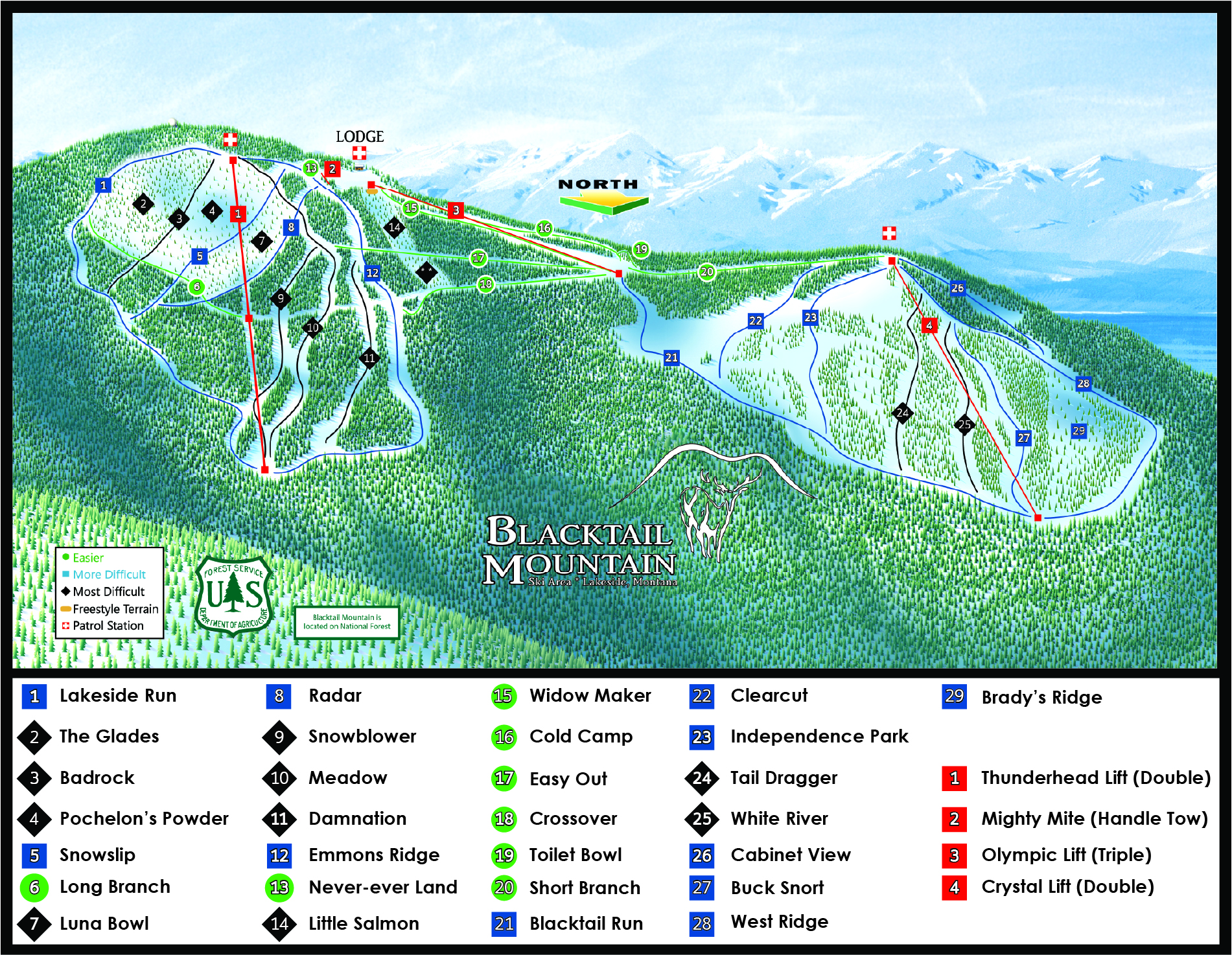 Vertical Drop: 1,440′
Number of Lifts: 4
Total Trails: 28
Blackouts: none
Blacktail Resort is an hour away from Glacier National Park and Whitefish Resort, one of our favorite resorts in the US.
It's much more affordable than Whitefish Resort, has even better views (which is hard to believe) and a great resort for getting comfortable with black diamond runs.
The resort is top-to-bottom meaning the lodge and everything is at the top and so you ski down and ride back up. It doesn't get much better than being here on a clear day!
While the nearest town of Lakeside is quaint, there isn't much to do here other than a brewery.
Nearby Accommodations: In Lakeside, you can choose from The Cabins at Blacktail, Stoner Creek Cabins, Whispering Pines Cabins, Sunrise Vista Inn, Flathead Lake hostel, or this Flathead Lake Villa.
8 miles away in Somers is also a Best Western that is an affordable & great jumping off point to Blacktail, Whitefish, Kalispell, Big Arm, and Glacier NP.
Kalispell is a 50 minute drive from Blacktail resort and has a lot of hotels or Airbnb's to choose from.
RV Camping: Edgewater RV Park in Lakeside is big rig friendly and has great views of the lake just across the street.
Pros:
Incredible views of Glacier NP, Flathead Lake, and Great Northern Mountain
Campground, hotels, and restaurants in Lakeside, MT which is only 20 minutes from the resort
Parking is right next to the ticket office, lodge, and lifts
Lodge is at the top of the mountain so even if you spend most of your time with a cold drink
Live music every Friday
$25 tickets every Thursday
Cons:
Narrow, steep, and icy road to get from Lakeside to the resort. I don't recommend taking an RV up here.
Not really a vacation destination but makes for a nice addition to a trip to Whitefish or a good stop on an Indy Pass road trip
Indy Pass Resorts In Washington
Vertical Drop: 1,850′
Number of Lifts: 7
Total Trails: 82
Blackouts: yes
49 degrees sits on the eastern side of Washington, just an hour and half from Sandpoint, Idaho.
Under different weather conditions we would've loved this resort however, we happened to be there when it was sopped in with fog, making the visibility really difficult and cold.
Nearby Accommodations: The nearest town, Chewelah, has a few motels and lodges to choose from.
If you don't mind driving a bit, we love staying in Sandpoint. We've stayed at Ruby's Inn before and loved that it has a hot tub and billiards table.
Staying at the Best Western is awesome because you can walk into town and get the best ice cream in the world at Panhandle! Families would love staying in this downtown home or this dog friendly downtown home.
Talus Rock Retreat is very popular.
If you are planning on skiing Schweitzer too then staying at a ski-in ski-out condo would be amazing. And large groups will love this Schweitzer 6 bedroom ski-in ski-out home.
RV Camping:
49 degrees has electric hookups for RVs in the resort parking lot. If you have a smaller RV, the roads up to 49 degrees aren't too bad. Semi-trucks drive it however, I wouldn't have towed my big 5th wheel up there.
There is also Chewelah RV Park just 15 minutes away.
Note that there aren't any RV parks in Sandpoint or the east side of 49 degrees in winter. We ended up camping in Coeur d' Alene.
Pros:
Small, local vibe
Parking is right next to the ticket office, lodge, and lifts with RV hookups
Cons:
Wet and dampness of the PNW
Not by any real "ski town"
Indy Pass Resorts In Idaho
The Indy Pass Resorts in Idaho are a big reason I will be buying an Indy Pass again next year. Overall, the Idaho Indy Pass resorts have great snow, a lot of ridable terrain, rad vibes, and incredible views.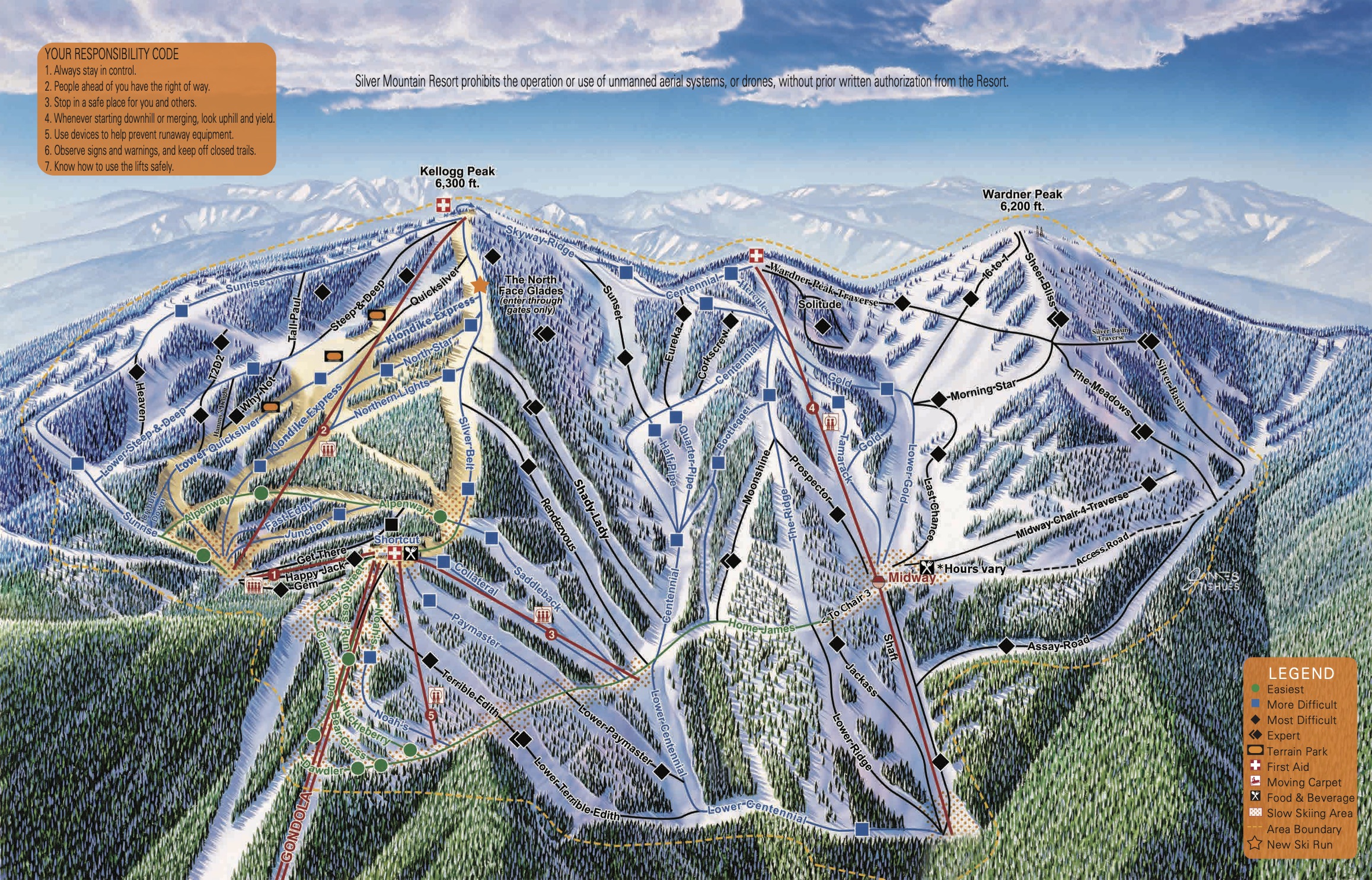 Vertical Drop: 2,200′
Number of Lifts: 7
Total Trails: 80
Blackouts: yes
We've driven past Silver Mountain dozens of times on other Idaho road trips but never actually stopped at it so it was nice to finally see this popular Indy Pass resort!
The runs were pretty steep for Tati (and myself) but if you are a more advanced skier or snow boarder, you will love the number of black runs and off trail terrain.
With an indoor water park that is open year round and its resort feel, Silver Mountain is a popular destination year round.
Nearby Accommodations: Silver Mountain Resort offers hotel style rooms as well as suites with kitchens. The FairBridge Inn is also walking distance to the gondola.
RV Camping: Silver Mountain offers overnight dry camping in their parking lot for $20 a night. Advanced reservation is required.
Pros:
Resort is right off the I-90
Overnight RV Parking is $20 per day
Lots of blacks and double blacks
Beautiful views
Resort like (reminds me of Keystone Resort in Colorado)
Cons:
Very few runs for intermediates
Not an ideal mountain to learn on
Gondola ride is long so don't plan on running back to your car in the middle of the day
Lodge is older
Feels a bit touristy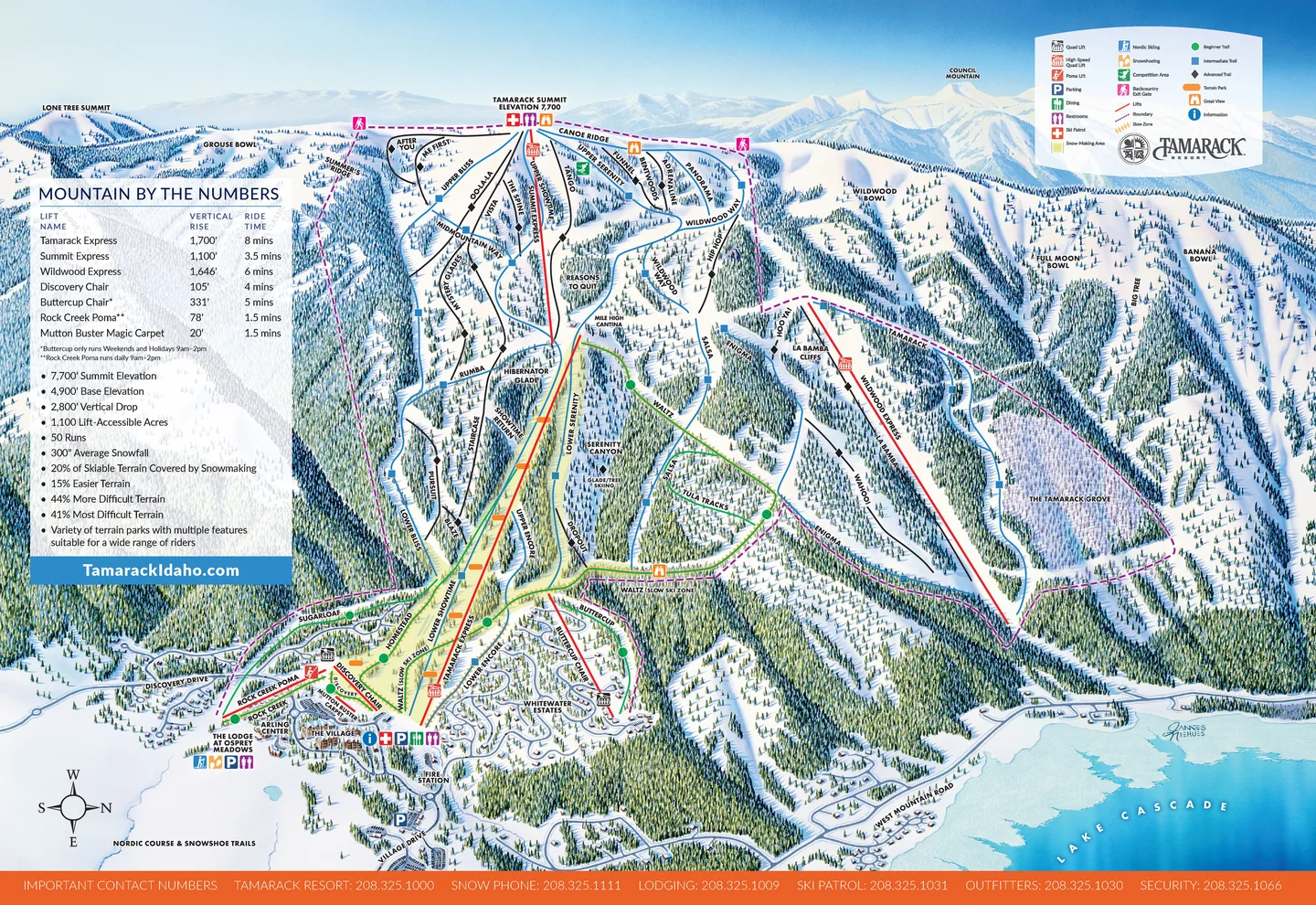 Vertical Drop: 2,200′
Number of Lifts: 7
Total Trails: 80
Blackouts: none
Tamaracks resort is one of the best small ski resorts in America and a great destination resort. And only 2 hours from Boise, it's easy to fly in, rent a car, and be on the slopes in no time.
With varying terrain, panoramic views of the mountains and lake, great powder, rolling groomers, friendly vibes, and ski-in ski-out accommodations, you will want to stay here for a while.
Nearby Accommodations: Tamarack Resort offers gorgeous rooms with full kitchens. There are numerous Airbnbs and beautiful ski in ski out homes with hot tubs. Or check out this rad renovated barn in Donnelly.
RV Camping: There isn't really RV camping near Tamarack. The closest camping would be in McCall (see below).
Pros:
Luxurious accommodations that you can ski in and out from
A good sized resort with three sections for varying terrain
Pretty views all around
A one of a kind location next to a frozen lake.
Not many crowds
Cons:
In the middle of nowhere
Not much to do but ski
Not as many terrain parks or man-made features as some of the other Indy Pass resorts
Related Blog: Guide to Skiing Tamarack Resort
Vertical Drop: 1,920′
Number of Lifts: 6
Total Trails: 70
Blackouts: yes
Just 30 minutes north of Tamaracks is another family favorite, Brundage Mountain.
We love the long, gradual runs on the front side, powdery bowls on the backside, a fun terrain park, and the great beginner area Brundage has.
While Brundage Mountain itself isn't a destination resort like Tamarack, it is only 10 minutes north of the adventure town of McCall. Between tubing at the Big Red Activity Barn , XC skiing, indoor ice rink, and great restaurants, you could easily spend a week in McCall.
Nearby Accommodations: There are a lot of options for places to stay in McCall. The Nest offers modern 3 bedroom homes. The Super 8, Best Western, Nordic Inn, Third Street Inn, and Holiday Inn are all really affordable.
Brundage is also in the process of building on site lodging which will be super fun and convenient.
RV Camping: You can choose from McCall RV Resort or Black Bear RV Park.
Pros:
The views
Long runs for people who like to bomb hills rather than shred technical terrain
Two very different terrains (front side vs Lakeview side)
Cons:
Staying in McCall can be pricey
Only one terrain park
A lot of catwalks that snowboarders won't like to get stuck on
Vertical Drop: 1,000′
Number of Lifts: 4
Total Trails: 27
Blackouts: none
Kelly Canyon is only 30 minutes from Idaho Falls. Don't let Kelly Canyon's small size fool you. We ended up here on a great powder day. The snow was falling and the runs here are much easier than some of the other Indy Pass resorts making it so that my youngest, Tatiana, could go down all the black runs with her sisters.
Nearby Accommodations: The nice part of skiing Kelly Canyon is that it is so affordable to stay in Idaho Falls.
RV camping: We camped at Snake River RV Park. Electric only sites are $35 + tax. They have free hot showers, which are a bit old and run down, inexpensive laundry facility, and a brand new hot tub that is open 24 hours a day!
Pros:
Family-friendly, chill vibe
Even the blacks are manageable for intermediate skiers and riders
Only 30 minutes from Idaho Falls
Cons:
Small resort with not a lot of runs
If you are advanced, you might find the resort a little boring
Related Blog: Idaho Ski Road Trip
Vertical Drop: 1,000′
Number of Lifts: 3
Total Trails: 32
Blackouts: none
Pomerelle is a great hidden gem, nestled in the middle of Idaho. Pomerelle is far from anywhere and the closest real town is Twin Falls an hour away.
This being said, Pomerelle is in the heart of the wild and has great snow. We loved its incredible shape as it is a bald headed knoll with a large bowl to cut through.
This resort has two amazing terrain parks, and two lifts, one that goes to the top and gives you access to powder puffs hidden in the trees great for advancing riders, as well as access to the large and long groomers. the second loft gives you the Terrain park and routes great for beginners just starting out.
Nearby Accommodations: The closest and really only place to stay near Pomerelle is this Historic Mountain Cottage or Marshall Creek Inn.
RV Camping: You are technically allowed to overnight camp here in the parking lot but note that it is a pretty steep and windy road up to the resort. This area is popular for snowmobiling though so a lot of trucks and trailers do drive it. You may also be able to overnight in the snowmobile parking lots.
We stayed right off the I-84 freeway at Village of the Trees RV Park. It's nothing special but it does have free hot showers, cheap laundry, and the gas station next to it was also cheaper than other nearby gas stations.
Pros:
Very family friendly vibe (I loved how many people tailgate on the weekend!)
Surprisingly fun even though it is small
One of the best terrain parks
Top notch tree weaving
Glorious night time energy
Cons:
Kinda in the middle of nowhere
small and can get sick of if you do not push yourself to all the levels of the mountain
only two lifts.
pretty one dimensional in terms of groomers.
not great for people who prefer long sweeping runs.
Indy Pass Resorts In Utah
Vertical Drop: 2,522′
Number of Lifts: 9
Total Trails: 154
Blackouts: yes + Advanced Reservations Required
Nearby Accommodations: There are a few inns like Alaska Inn and Spa and Valley House Inn to stay at near the base of Powder Mountain in the small and very quaint town of Huntsville.
One of the best parts of skiing near Ogden and Salt Lake City is the abundance of really affordable Airbnbs. If you prefer a hotel, there are plenty. I'd personally choose one that is close to downtown Ogden like Courtyard by Marriott because then you can walk to eat at Slackwater Pizzeria and Roosters Brewing.
RV Camping: We stayed at Century RV Park which is more like a mobile home park but the showers are hot and free, there's laundry, the people who work there are really nice, and it is right off the freeway.
Pros:
Great diversity of terrain for all levels
Long runs
Best terrain park we visited this season
Cons:
So big it is harder to keep track of all the kids
Can be confusing your first day (but after you memorize the map it is great!)
Can be quite crowded compared to other Indy resorts
Vertical Drop: 1,600′
Number of Lifts: 6
Total Trails: 48
Blackouts:
Beaver Mountain is 10 miles from Bear Lake and the quaint town of . It's a little off the beaten path compared to the Salt Lake resorts but once you get here, you won't want to leave.
We enjoyed that Beaver has two mountain peaks and being able to figure 8 back and forth between them was fun.
The learning area is good for beginners and for being a fairly small resort, the runs were still long enough to get your thighs burning.
Nearby Accommodations: The nearest town to Beaver Ski Resort is Garden City, which is only 10 miles east. There isn't much for hotels here but there are a lot of really nice, new homes like this one that sleeps 10 and even offers electric scooters. There is also Beaver Creek Lodge near the resort that offers great snowmobiling packages.
RV Camping: You can overnight at the resort or possibly at one of the snowmobile parking lots. There is also a KOA in Garden City but it might only be open to long term stays in winter.
Pros:
Great for beginners, not so for experts
Long and swooping runs
Many groomers
Great terrain park
The runs below the lifts are amazing
The mogul runs are very nice
Cons:
In the middle of nowhere
Not great for experts
Very one dimensional, every run is fairly similar
Small
Vertical Drop: 1,500′
Number of Lifts: 5
Total Trails: 40
Blackouts: none
Eagle Point is located 30 minutes east of Beaver, Utah.
Nearby Accommodations: I like that the ski in ski out condos & houses at Eagle Point resort are quite affordable and some sleep up to 10.
There are also many affordable hotels down in the town of Beaver.
RV Camping: There is a KOA in the town of Beaver.
Pros:
Supreme powder
Hidden gem of utah
Less crowded than Brianhead
Cool because its the only ski resort in the surronding area
Kind of a backcountry feel
The tree activity is super awesome
Cons:
In the middle of nowhere
Not as big as Brian Head
An interesting shape that lends itself to shorter runs
Not great for begineers
The whole mountain is a funnel so flat and wide groomers will not be found
Very few groomers
Indy Pass Resorts In Colorado
Vertical Drop: 1,000′
Number of Lifts: 4
Total Trails: 41
Blackouts: none
Just an hour and a half northwest of Denver, Ski Granby Ranch is an epic destination for families and beginners.
With 2 mountains, one for beginners and the other for intermediated and advanced skiers and riders, Granby Ranch has something for everyone in the family.
While the runs are on the shorter side, the comfort of having ski in ski out accommodations, nearby grocery store and restaurants, incredible views of the Continental Divide, and lack of crowds makes Granby Ranch a fantastic Indy Pass resort.
Nearby Accommodations: A popular and affordable place to stay in Granby that is only 2 miles from the resort is The Inn at Silvercreek.
If you prefer ski in ski out accommodations, check out this 1 bedroom apartment, 3 bedroom condo that sleeps 16, this 3 bedroom penthouse that sleeps 14, or this 6 bedroom house. All have hot tubs and mountain views.
RV Camping: There's a luxurious RV Park in Granby called Sun Outdoors Rocky Mountain that start at $65/night. They also offer stays in airstreams, covered wagons, cabins, and tiny homes.
Pros:
Ski-in Ski-out
Close to Granby which has a large grocery store and some shopping
Resort feel with nice cafe, restaurant, and lounge
Cons:
Pretty short runs and not much diversity in terrain
Mediocre terrain park
Vertical Drop: 2,010′
Number of Lifts: 3
Total Trails: 74
Blackouts: none
Sunlight Mountain is located in Glenwood Springs, Colorado. It was one of our favorite resorts to ski at on the Indy Pass. We loved that the drop was consistent but not too steep, the terrain park was fun, the runs were fairly long, and the views at the top were amazing.
Being just 20 minutes from downtown Glenwood Springs which has great restaurants, a Walmart and an REI, and the popular Glenwood Hot Springs, made it an easy destination to stay at for awhile without breaking the bank.
Nearby Accommodations: Glenwood Hot Springs is our top choice for hotels in Glenwood Springs. What better way to finish your day of skiing than soaking in the hot springs!
RV Camping: It is really hard to find RV camping in the town of Glenwood Springs, however, if you are set up for winter camping, I read that resort does allow overnight camping in their parking lot however, the parking lot is really small so I wouldn't bring an RV up here.
We were there in early March and Ami's Acres allowed us to camp there.
Pros:
Diversity of runs with good drop
Relatively long runs compared some of the Indy resorts we visited
Decent terrain park
Incredible views from the summit
Cons:
Hard to RV camp here
No major airports close by
Indy Pass Resorts In Wyoming
Vertical Drop: 2,010′
Number of Lifts: 3
Total Trails:
Blackouts: none
Meadowlark is located in Ten Sleep, Wyoming (one of our favorite rock climbing destinations). Surrounded by the beautiful Big Horn mountains, the views here are pretty epic.
We loved the locals vibe and that the lodge served up homemade food that was actually delicious.
While the runs are short and there aren't many of them, Meadowlark makes for great winter destination with options like XC skiing, ice fishing, snowmobiling, snow shoeing, and more.
Nearby Accommodations: Staying at the Meadowlark Lodge would be perfect for families just learning how to ski and is also a great wedding venue.
RV Camping: You can camp for free in the nearby snowmobile parking areas or in Ten Sleep at the Ten Sleep RV Park.
Pros:
Warm, friendly staff
Locals vibe
Rad lodge with massive fireplace
Great vacation destination for other winter sports too
Cons:
It's really small
Runs are very short
No major airports close by
Indy Resort Conclusion
After the epic ski season we just had with our Indy Pass, I can't help but rave about Indy Pass Resorts. Firstly, we were able to get in 21 days of skiing at 14 different resorts, and as a result, it cost only $13 a day for ages 13 and up, and $7 a day for kids ages 4-12!
Not only did we create great memories together as a family, but the confidence and skill development that my kids experienced at the Indy Pass Resorts were incredible. To elaborate, at the beginning of the season, my youngest could barely ski blue runs; however, by the end, they were confidently navigating black diamonds. Simultaneously, my 15-year-old son is now skiing switch and doing 360's off the jumps in the terrain parks.
I attribute this remarkable progress to the fact that Indy resorts are so uncrowded, allowing my kids to focus on developing their skills rather than navigating through other skiers/riders. Additionally, because all these Indy Pass Resorts are small, I felt comfortable sending them up lifts on their own while I took breaks in the lodge. In larger resorts, this would've been very hard as they would have worried about getting lost or not being able to meet up with me later.
Moreover, while this might not be a big deal to everyone, I appreciate that all the Indy Pass resorts we visited allowed us to bring our own food into the lodge to eat. Given that we care a lot about our health and what we eat is the #1 attribute to how we look and feel, I am grateful that we can bring in our salads, fruits, nuts, and homemade chili when we are ready to eat lunch.
Pin This