There's a reason the newest design at Lems Shoes is called the Mountain to Town series. The Trailhead shoes are the only pair of shoes you will ever need on a summer of exploration.
Affiliate notice: This article may contain affiliate links. When you make a purchase through one of these links we receive a small commission at no extra charge to you.
You see what I think of with the Mountain to Town series is how summer trips usually go:
Camped out in the wilderness, blazing a campfire, staring at the stars, and getting stoked for an epic adventure the next day. You wake up before sunrise, head to the trailhead and start off on a gnarly hike to an alpine lake, 14,000 foot summit, or off into a canyon.
Or maybe it's not hiking. Maybe it's a long 1-2 hour approach to a classic crag or maybe you're grabbing your mountain bike and headed out on a long ride at dawn. The adventure, no matter what it may be, was amazing.
The sun goes down and it's time for food and a drink. You stomp straight from the trail into the nearest town, maybe it's Squamish or Moab if you're lucky, in full dirtbag fashion: sweaty and grimy but stoked. You walk into a restaurant or brewery and look around and realize you look slightly homeless compared to the rest of the folk around. You've got the tattered flannel, hat, and hiking boots. But hold up you got your Trailheads. You walk in like a boss knowing you're rocking the Lems Mountain to Town series 😉


I'm sorta kidding about that last part but seriously you got to love the versatility in being able to wear the exact same pair of shoes for a full day adventure, I know I do. In fact every summer I always opt for trail running shoes as oppposed to hiking boots (even if I plan on going on long backpacking trips) because of the versatility between adventure sports and between the mountain and town.
While the Lems Trailhead shoes are not trail running shoes, the concept of their versatility is the same: low heel drop, thin rubber, and lightweight design.


So you get the point, the Trailheads are versatile but there's more to these shoes than just that. In this Lems review I'm going to share what I love (and don't love so much) about the Trailhead shoe.
Disclosure: These Trailhead shoes were provided to us by Lems Shoes in order to create this review however the opinions expressed in this blog are, and always will be, TRULY our own.
6 Reasons I Love the Lems Trailhead Shoes…
Low Heel Drop
A low heel drop design creates a more healthy and natural gate and posture. I personally like the low heel drop for the ability to use these shoes for a biking whether it's on trail or pavement.
Lightweight Design
These shoes have a thin, flexible rubber sole that makes them lightweight and extremely comfortable. When your foot arches or flexes, these shoes bend with your foot. They're also very light and that's why I opt for them even on long hikes. Instead of being bulky and heavy like a hiking boot, Trailheads are sleek and light.
Ankle High
Ankle high style makes for great flexibility. Much like a trail running shoe, I like being able to move my foot around in these for dynamic movement like running and jumping on the trail and off.
Great Traction
Despite the thin, light rubber soles, I'm amazed with the great traction when hiking on rocky terrain. This is of course essential for avid hikers. The level of traction also manages to stay thin enough to transition to biking easily.
Durable
Most trail running shoes tend to be flexible in the uppers but rigid in the soles. Because of this, trail running shoes that I usually take on lots of long hikes, wear out fast in the fabrics and within the year, they're done for. These shoes are the opposite and I love that.
The bottom of these shoe are light and flexible while the tops remain to be durable against the elements and wear and tear. The Lems Trailhead shoes will endure more than a typical shoe before wearing down the fabrics.
Trail to Town Style
I know fashion doesn't really matter in the wilderness, but you can't help but feel like the trail is a runway when you're rocking the Trailheads. I mean, what's not to love about the retro look of these shoes? The Trailheads aren't the typical design of an outdoor shoe these days and I love them for that. Their minimalist style comes in multiple different color schemes to suit your preferences.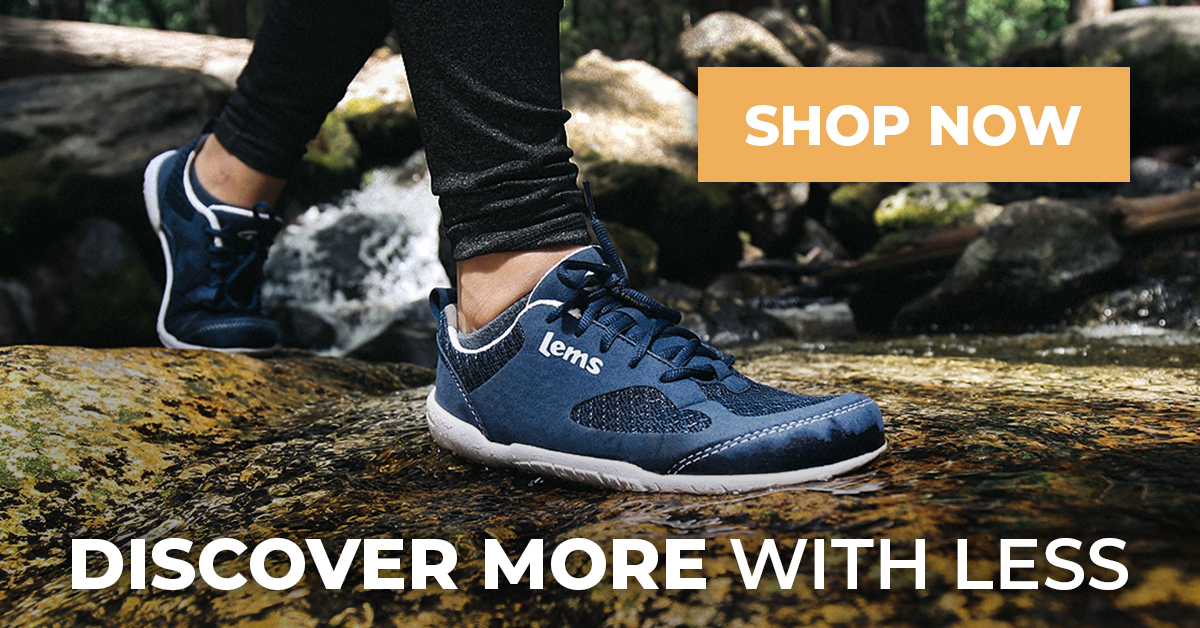 Pros
Low heel drop for healthy gate and versatile between adventure sports like mountain biking
Lightweight design for flexibility in the shoe and not heavy and bulky like boots
Ankle high style makes for comfort in dynamic movement like running and jumping
Great traction when hiking on rocky terrain
Durable fabrics will last longer than a typical trail running shoe
Minimalist retro look in multiple different color schemes
P.S. They're made out of vegan leather
Cons
Surprisingly narrow toebox considering these shoes are built to be naturally shaped. I do have a wide toe box so some may not notice it. I did appreciate that after breaking in the shoes the toebox stretched out a bit for more comfort.
Those with weak arches will not find the minimal, flat sole design comfortable
Conclusion
Honestly, this is the only shoe you'll need all summer. Unless you're headed out on a 50 mile backpacking trip, I'd use these for any hike, climbing approach, bike ride, or trip into town. They're stylish, innovative, and versatile. The narrow toebox and minimalist sole design could be a dealbreaker for some, but for most, you will find these to be the perfect shoe for your adventures.
Click here to shop the Lems Trailhead Shoes
---
Related:
Got questions about the Lems Trailhead Shoes? Let us know in the comments section below!
Share the love!