These paleo lemon chia muffins are an awesome snacks, they're super easy to make, and they're extremely yummy. Though they contain no processed sugar, are gluten-free and dairy free, they're still sweet, hearty, moist, and jam-packed with scrumptious, fluffy flavor.
Are you interested in finding new desserts? Do you crave more than your average Trader Joe's pastries but also don't want to drop $20 on a vegan, paleo, grass-fed, keto, free-range, refined sugar-free, all-natural, non-GMO, cage-free, chocolate macadamia vanilla bean lavender raw honey eclair-doughnut-croissant dessert thingy that'll you'll finish in one bite?
YOU'RE IN LUCK!
My entire purpose in life (as far as the internet knows) is to fulfill your sweet tooth (while not giving you a sugar headache) so you're ready to crush your day, shred the gnar, hike that mountain, and beat your friends at Settlers of Catan.
Not only that, but I'm also here to tell you funny stories and pretend I know what the heck I'm saying so you'll stick around and love my stories forever!
This is my second blog so let's see how this goes. We shall start the same way I did last time, with a incomprehensible story…….. that probably makes no sense. Good luck!
I love lemon anything. Lemon cake, lemon cookies, lemonade, lemon kombucha, lemon ice cream, but lemon muffins take the cake for being the best lemon dessert. (Muffins take the cake? Does that even make any sense?) And my whole family likes them so I get to make them very often sometimes as often as every day for weeks on end (you have no idea how many lemons I've squeezed over the past month…)
Most of the recipes I looked at though always had something I didn't like. Whether it was tons of sugar or gluten or a weird flour that I don't want to use or they actually don't taste that lemony.
And so, my quest to make my own recipe began! For 3 years—I mean, 2 weeks straight, I worked on creating my own lemon muffin recipe, squeezing and zesting every lemon insight and experimenting with other classic baking ingredients until voila! I had a muffin looking concoction.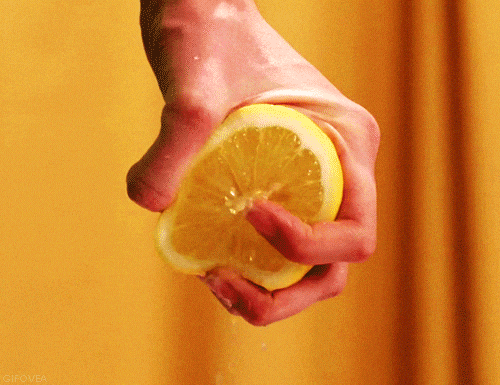 Note: Apparently the scene from the movie Get Smart with Anne Hathaway and Steve Carell isn't popular enough on Giphy so I couldn't find the gif I wanted of the scene of them on the airplane and Steve Carell's character says "I need to squeeze the lemon, you heard me, SQUEEZE THE L.E.M.O.N" It would've been awesome to put right here but, oh well!
I'm so happy with how these paleo lemon muffins came out. With their fluff,y yet dense texture, and their flaky, caramelized tops make these muffin to die for. They're sweet, but not too sweet, and super lemony. I'm not bragging or anything, except I am, because they're pretty perfect 😉
This Lemon Chia Muffin Recipe Is:
Gluten-Free
This recipe has NO gluten and is entirely almond and coconut flour-based! How great is that? Personally, I feel much better when I'm off gluten so these lemon paleo muffins are perfect.
Refined Sugar-Free
This part was tricky to figure out because the second I changed the sugar quantity, the consistency got weird and the muffins wouldn't bake right.
After some experiments that ended in explosions (jk) I eventually got rid of all refined sugar and switched over to applesauce. Applesauce is the key to the sweetness of this recipe.
The muffin now tastes delicious while being much more guilt-free.
Fun Fact: Did you know that the word Applesauce was a curse word in the 1920's?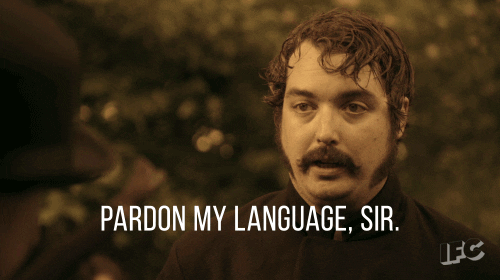 Paleo (AKA Dairy-Free Too)
Not only is this recipe gluten-free and refined sugar-free, it's dairy-free too!
Seriously guys, these Lemon Muffins are CLEARLY the perfect post-workout, travel, late-night, early morning, coffee break, beach, stress eating, backpacking, post surfing, adventuring, skiing, snowboarding, mental breakdown, fight clubbing, campfire, jousting, skydiving, spelunking, monster hunting, rock climbing, crime fighting, cha cha sliding, post lightsaber dueling, shark caging, gladiator fighting, or hiking SNACK!
With their fluffy yet dense texture and their flaky, caramelized tops, these muffins almost seem fake. These muffins are sweet, but not too sweet, and super lemony. I'm not bragging about them or anything right now but I am because they're pretty perfect.
So let's get into it!
Paleo Chia Lemon Muffins
Prep Time: 30 minutes (because I'm slow)
Bake Time: 35 minutes
Cooling Time: 15 minutes
Total Time: 1hr and 20 minutes
Servings: 24 Muffins
Ingredients:
6 Flax Eggs (6 Tbsp Flax & 3/4 C. Water)
1 Cup Lemon Juice (around 7 lemons)
2/3 Cup Lemon Zest
4 1/2 Tsp Baking Soda
1 1/2 Tsp Salt
3/4 Cup Melted Coconut Oil
2 Cup Applesauce
1/4 Cup Honey
1 1/2 Cup Gluten Free Rolled Oats
3 cups Almond Flour
3/4 Coconut Flour
3 Tbsp Chia Seeds (optional)
Directions
Grease 2 muffin tins with melted coconut oil and preheat your oven to 375 F.
In a mixing bowl, prepare your flax eggs by combining 6 Tbsp Ground Flax Seeds with 3/4 Cup of Water and let it sit for at least 3 minutes before adding any other ingredients. Note: You could substitute 3 eggs for the flax eggs but I never have so you're on your own here.
While your flax eggs are sitting, zest the lemons (and most likely part of your hand).
After zesting, juice the lemons and set them to the side. Be sure to strain the seeds if juicing by hand.
Melt your coconut oil however you want. It could be in a saucepan. Over a fire, leaving it in the sun, harnessing the flames of anger that you've buried deep down inside of yourself, or a microwave. I usually do the last one…… usually.
Add baking soda and salt into the flax egg mixture.
This is my favorite part of baking these (as stupid as it sounds). Pour the lemon juice into your mixing bowl at watch it fizz like a child seeing the volcano science experiment for the first time. Ooooooooooh! Ahhhhhhhhh! Okay, we're done with that now.
Add in your lemon zest, melted coconut oil, applesauce, and honey *Oh honey honey doo doo DO doo dooo, aww suga' suga' doo doo DO doo dooo. You're my candy GIRLLLLLLLLL!*
Add the dry ingredients while slowly stirring.
Once it has all incorporated, fold in your chia seeds. Note: Don't eat these with the chia seeds if you're going somewhere fancy because the chia seeds WILL get stuck in between your teeth. Like Cage The Elephant says "I can feel it in my TEETH and it's driving me crazy!" Okay, that's enough with the obscure references…or is it?
Pour the batter into your muffin tin until it's 3/4 of the way full.
Put into the oven and bake for 25 minutes or until the top is golden/flaky and a toothpick comes out clean.
While you wait, painfully try to undo the horrible mess your kitchen has (probably) become.
Let cool for 15 minutes or more.
Enjoy!
Congrats you've made it to the finish line! Either eat all these muffins on your own or take them to your next meet and greet, pot luck, game night, movie night or annoying relatives party. They will be a big hit!
---
Alright, that's all people! Thanks for joining me on this baking journey. Please make sure you share this recipe if you loved it or even hated it AND make sure you check out my other blogs that I think you'll love as well!
Is Health Important To You? Check Out This Video Below
In this video, I'm teaching my 5 key strategies to use so that you can stop looking for the next diet plan and enjoy your food while also rebalancing your hormones and giving your body the energy it needs to chase your dreams.
By eating real food, listening to your intuition, reducing cortisol levels, chasing flow state, and tapping into your energetic hubs, your relationship with food will be a source of empowerment not frustration.
As I explain in my book, A Playful Life, I explain how to rethink your relationship with food and give you shift your eating plan so that you can start enjoying your food and your life more. Download my book for free.
Related Blogs:
Save this for later, Pin it!