There are so many incredible things to do in Steamboat Springs in September and October when fall colors arrive. In this blog, we're sharing the best fall hikes, fall activities, and scenic spots to see fall colors!
Fall in Colorado is one of the most spectacular displays of nature you'll ever see. With the Rocky Mountain Range cutting right through the state, Colorado is already full of otherworldly beauty. Add in the bright vivid yellow and orange leaves that fill the aspen groves and larch trees and you've got yourself a magical, enchanting destination.
Though there are many amazing towns to visit in Colorado for fall colors, Steamboat Springs is one of the best! Whether you're looking for epic fall hikes, scenic drives to see fall colors, or mountain biking amongst aspens, Steamboat Springs has it all for your next fall trip!
Best Time for Fall Colors in Steamboat Springs
If you're looking for fall hikes in Steamboat Springs, you'll want to make sure you the it right to see peak fall foliage on the trails surrounding Steamboat. Generally speaking, fall colors peak in Colorado somewhere between mid-September and mid-October. Leaves begin to change colors once the nightly low hits freezing temperatures. That's why higher elevation towns in Colorado (like Breckenridge) get the peak of their fall colors sooner.
It's hard to predict when the exact week that fall colors will peak in Steamboat Springs because it depends on the year. For the most part, you can count on fall colors being great the last 2 weeks of September. Fall colors will often last into early October.
As of 2022, the current prediction is that the leaves in Steamboat Springs will start to see their leaves turn between September 15th-25th.
Related – Things to Do in Colorado in September
Best Fall Hikes in Steamboat Springs
Mad Creek Trail
Distance & elevation gain: 6-9 miles, 1,354 feet
Difficulty: Moderate
Trailhead: Mad Creek Trailhead
Accessed just 10 minutes north of Steamboat Springs, Mad Creek Trail is a stunning valley trail full of aspen groves that make for amazing fall colors. You'll also pass by cool old mining cabins and get wonderful views across the valley. Though you can make this a 9 miles (roundtrip) hike, 2 common turnaround points are at mile 2 at the old cabin, or at mile 3.8 where you'll reach a small meadow by the creek.
Spring Creek Trail
Distance & elevation gain: 10.1 miles, 1,470 feet
Difficulty: Moderate
Trailhead: Spring Creek Trailhead
Under normal circumstances, Spring Creek Trail would be just an average hike to explore in the Steamboat Springs area. Its popularity mainly comes from its proximity to town and moderate grade making it great for runners and bikers. However, during the peak of fall colors, hiking along this multi-use bike/hike trail network can be absolutely beautiful due to the vast aspen forest turning tones of yellow and orange.
Related – Best Fall Hikes Breckenridge
Mount Zirkel Loop Trail
Distance & elevation gain: 6-9 miles, 1,354 feet
Difficulty: Moderate
Trailhead: Slavonia Trailhead
The Mount Zirkel Loop Trail is quite possibly the most beautiful hike in all of the Steamboat Springs area and it gets even better in the fall when oranges and yellows grace the forest on the way up. Most of the fall colors you'll see are at the beginning and the end of the hike. As you get higher and evergreens begin replace the aspens, the stunning lakes and sub-alpine meadows take your breath away. Be sure to hike it counterclockwise for the best views while hiking!
Three Islands Lake Trail
Distance & elevation gain: 6.3 miles, 1,540 feet
Difficulty: Moderate
Trailhead: Three Islands Lake Trailhead
If you're looking for a mix of beautiful fall foliage and peaceful lakes, check out the hike to Three Islands Lake. This less popular Steamboat Springs hike is a sustained moderate uphill through a forest full of aspens and spruce trees that make for a fall spectacle.
Fish Creek Falls
Distance & elevation gain: 4.7 miles, 1,450 feet
Difficulty: Easy
Trailhead: Fish Creek Falls Trailhead
Just a few minutes east of Steamboat Springs, Fish Creek Falls is a short, but steep trek up a river valley to reach Lower and Upper Fish Creek Falls. The first falls, Lower Fish Creek Falls, is accessed after only .5 miles of hiking on a flat, paved, stroller-friendly trail. Though this waterfall may technically be more impressive, it's worth hiking the remaining 1.8 miles to the more forested Upper Fish Creek Falls. Along the way, you'll pass by some deciduous trees that will create a beautiful fall glow.
Want a longer adventure? Extend this hike all the way out to the pretty Long Lake in the Mount Zirkel Wilderness, making for a 12.2 miles out-and-back hike.
Related – 7 Things to do in Crested Butte in October
Emerald Mountain via Blackmere Trail
Distance & elevation gain: 3.8 miles, 900 feet
Difficulty: Moderate
Trailhead: Blackmere Trailhead
Emerald Mountain sits right on the southwest side of downtown. This small summit can be accessed by weaving your way up the Emerald Mountain trail network, popular amongst mountain bikers, and lush with so many aspen trees. Hike through aspens on the Blackmere Trail (being conscious of bikers) to the summit where you'll also get a panoramic view of Steamboat Springs, seeing the fall colors fill the valley from above.
Tombstone Nature Loop
Distance & elevation gain: 1 mile, 120 feet
Difficulty: Easy
Trailhead: Steamboat Lake State Park
If you're looking for an easy stroll that delivers wonderful fall colors, check out this 1-mile hike at Steamboat Lake State Park. The views are outstanding. This fall hike in Steamboat Springs goes out to a viewpoint on the lake where you get amazing mountain views of Mount Zirkel and Hahn's Peak plus the lake itself.
Hahns Peak
Distance & elevation gain: 3.6 miles, 1,410 feet
Difficulty: Strenuous
Trailhead: Hahns Peak Trailhead
The Hahn's Peak summit is an iconic hike in Steamboat Springs and it only gets better in the fall. Though only 3.6 miles roundtrip, this hike is steep so be prepared. From the summit, you get complete panoramic views and can see fall colors grace the forests beneath and beyond.
Related – 7 Things to do in Telluride in October
Fall Color Drives in Steamboat Springs
If you're visiting Steamboat Springs in September, you can't miss exploring one (or more) of the many scenic drives. Steamboat scenic drives are full of incredible fall colors. Here are some of the best places for fall colors in Steamboat Springs.
Buffalo Pass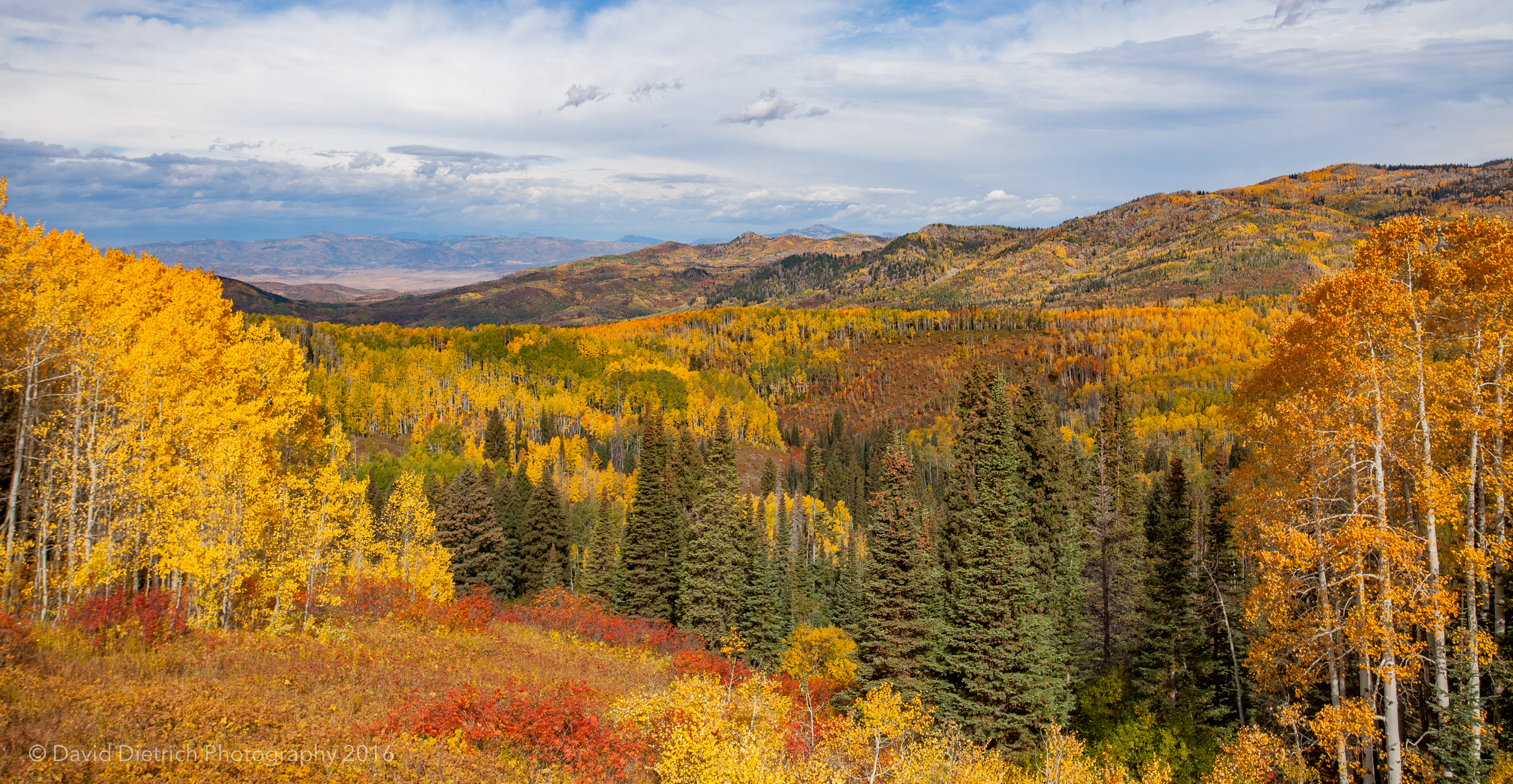 Buffalo Pass is just a short drive from Steamboat Springs on a dirt road that is full of aspen groves. Just follow CO Rd 38 towards Summit Lake Campground and you'll see stunning views of yellow and orange leaves filling the valley from the panoramic viewpoints.
Dunckley Pass
Dunckley Pass is an alpine pass along the Flat Tops Scenic Byway between the towns of Yampa and Meeker. This 82-mile road is not hard to cross since it is mostly gravel and has only a few switchbacks, however due to the high elevation, the road usually closes by mid-October making this a great scenic drive to hit in September. This drive is a full-day adventure of mountain views and fall foliage, plus, there is so much to hike and explore once you're out in the beautiful Flat Tops Wilderness Area.
Rabbit Ears Pass
Rabbits Ears Pass is accessed by driving east from Steamboat Springs, going all the way across the US 40 until you intersect Hwy 14. On this 30-minute drive, you'll be greeted with a plethora of fall colors and amazing mountain peaks on both sides.
Things to Do in Steamboat Springs in September
Mountain Bike Buffalo Pass
Remember how Buffalo Pass is one of the best scenic drives for fall colors, well it's even better for biking. Start from Dry Lake Campground to explore the incredible singletrack trails of Buffalo Pass. This network is among some of the best mountain biking Steamboat Springs has to offer. Don't miss the 11-mile Flash of Gold trail that is lined with glowing aspens. For experienced riders, make it a 21-mile loop by heading to Grouse Ridge afterward.
OktoberWest
OktoberWest is Steamboat Springs' annual craft beer festival. With 30 brewers Andover 1,000 attendees, this festival is a super fun festival you can't miss in September in Steamboat.
Strings Music Festival
Steamboat Springs has an incredible music venue called the Strings Music Pavilion. Here, Steamboat Springs hosts 60 performances from June through October with a variety of different genres. Be sure to check out the event to find out who is playing if you visit Steamboat in September or October.
Bike the Yampa Core Trail
If you've had enough of hiking and scenic drives (if that's even possible), try going for a bike ride down the Yampa Core trail. The Yampa Core Trail is a 7.5 Miel multi-use trail that goes along the Yampa River. Fall colors hang over the river's edge beautifully during the peak of fall leaves in September.
Pro tip: If you're feeling brave, you can float on an inner tube down this same river but be warned, September may be getting cold for this already.
Visit the Hot Springs
Now that that crisp fall breeze is in the air, September and October are great times to soak in the toasty warm waters of Steamboat Hot Springs.
Steamboat Restaurant Week
Every year, Steamboat Springs hosts Restaurant Week in downtown Steamboat. This awesome event is a foodie haven where more than a dozen restaurants offer up food sample and culinary specials! Steamboat Restaurant Week is often hosted the first week of October.
Steamboat Food & Wine Festival
Another great thing to do in Steamboat Springs in September is to check out the food and wine festival. At this festival, esteemed chefs are paired with renowned winemakers. Attend this festival to indulge in luxurious food between fall foliage explorations. Click here to learn more about this year's festival.
---
Hope this blog inspired you to visit Steamboat Springs this fall and helped you plan what to do in September! If you have any questions, let us know in the comments below!
Book Your Stay in Steamboat Springs
Related: