Whether you're an Ikon Pass owner headed to the slopes of Steamboat Mountain or a traveler seeking a winter getaway, I can guarantee that these 17 things to do in Steamboat Springs in the winter will make for an unforgettable trip!
Steamboat is a unique ski town and though it's certainly a bustling Colorado ski town, there's something about its history as Ski Town USA and its deep western/country roots that makes Steamboat feel a little bit more down to earth and welcoming than other Colorado destinations. And if the vibe wasn't enough, Steamboat is a winter playground with a variety of options for every snow sport.
Want to ride big mountain terrain and groomers? You've got Steamboat Mountain itself. Ready to find fresh powder? Look no further than the incredible Bluebird Backcountry resort. There is snowshoeing, ice skating, XC skiing, snowmobiling, and ice fishing galore. Not to mention multiple hot springs and fabulous events like WinterWonderGrass and the Winter Carnival.
Read on to discover amazing things to do on a winter trip to Steamboat Springs!
Go Downhill Skiing or Snowboarding
Steamboat Springs is Colorado's premiere family-friendly resort and renowned destination on the Alterra-owned, Ikon ski pass. Whether you have an Ikon Pass or grabbing lift tickets, no trip to Steamboat Springs is complete without riding this "Ikonic" resort complete with Steamboat's legendary Champagne Powder.
Champagne Powder® is the trademarked term initially coined by a Steamboat local before the resort was even established to describe the quality of powder. Steamboat's snow averages 6% water content compared to the typical 15% water content of many other locations. No other ski resort has its snow trademarked, and there's no other place you'll find Champagne Powder snow than in Steamboat.
With powder so iconic it has its own trademark, how could you not want to get a taste of the smooth, fluffy powder as well as the variety of terrain?
New to riding? don't worry, Steamboat is considered by many to be one of the greatest beginner mountains, especially for snowboarders.
Related – Best Ski Passes Compared: Ikon Vs Epic Vs Indy
Attend WinterWonderGrass in March
WinterWonderGrass is an authentic Colorado gathering celebrating bluegrass and craft beer in one of the coolest ski towns in Colorado! (AND it's family friendly🙌) WinterWonderGrass is coming back to Steamboat Springs this winter for its 10-year anniversary festival March 3-5, 2023. We're so excited to be attending WinterWonderGrass this year and can't wait!
Tickets often sell out for WinterWonderGrass so be sure to grab tickets NOW for this amazing music festival!
Get Toasty in Old Town Hot Springs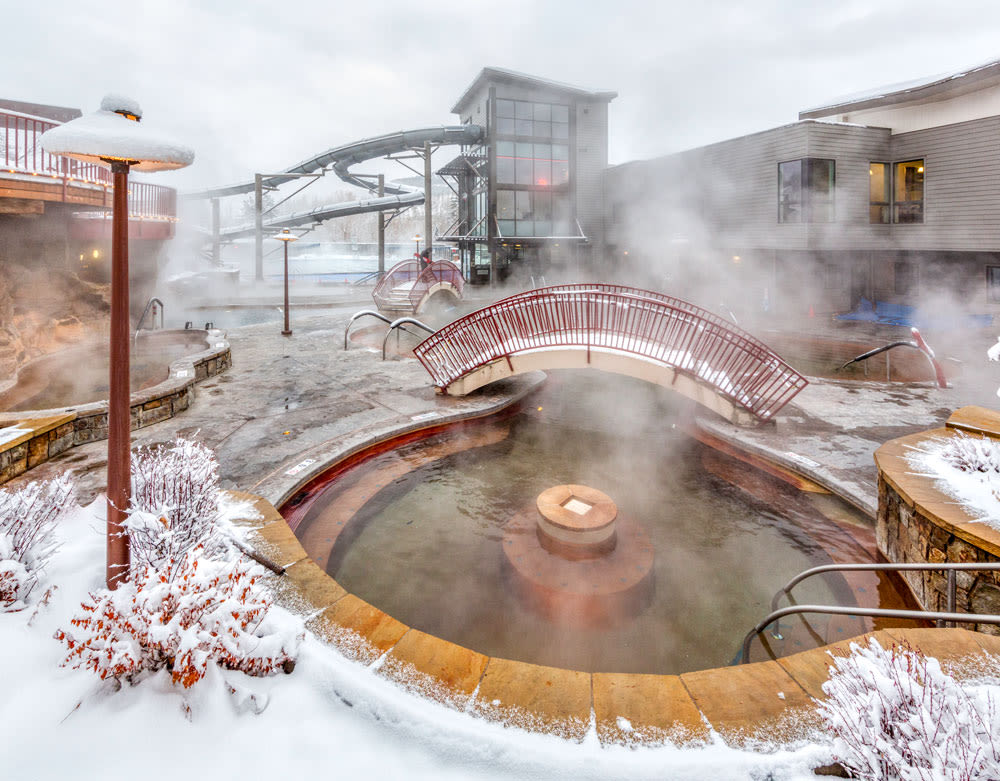 Between cold weather outdoor activities, what better way to warm up than to soak in the Steamboat's Old Town Hot Springs. This all-natural outdoor mineral hot spring is open year-round. The spring delivers approximately 220 gallons of 102-103 degree water out of the ground per minute to feed the 4 different pools. There's also an 80-degree lap swimming pool, a kiddie pool, and summer-only water slides for future reference. Admission is $23-29 per person for the day.
Escape the Weather with Indoor Rock Climbing
There's more to Old Town Hot Springs than just soaking and swimming. Old Town Hot Springs also has a world-class gym and family-friendly recreation facility. This is a great supplement to a relaxing day at the mineral hot springs.
Related blog – 25 Things to Do in Summit County in the Winter
Explore the Backcountry
Riding the big Ikon-owned Steamboat Springs Mountain Resort might be a great way to get your turns in, but if you want more of an adventure, check out the unique Bluebird Resort. Bluebird Backcountry is a designated backcountry resort included on the Indy Pass. This means all terrain is accessible by skinning up to pristine powder lines.
You might be asking, "Well what exactly am I paying for?" Well, you're getting access to pristine snow and carving your own powder lines but unlike the true backcountry, the resort is avalanche controlled and has ski patrol.
For just $39 for the day, you can access 1,200+ acres of in-bounds terrain, 28 runs, and 11 marked skin tracks.
Don't know how to backcountry? Bluebird Backcountry also offers a series of guided lessons plus avalanche courses. If backcountry riding intrigues you, this could be a great place to join a lesson and dip your toe in the water. They offer a Lesson Package that includes a day pass, a Backcountry 1, 2, or 3 Lesson, and ski or splitboard rental for $169.
See snowy Fish Creek Falls
Fish Creek Falls is a year-round attraction that you won't want to miss in the winter. This time of year, the snow-covered surrounding trees make this a winter wonderland. This waterfall is easily accessible and requires only 1-2 minutes of hiking to reach the upper lookout and another 1-2 minutes to reach the bridge viewpoint.
Make sure you pack and wear traction devices like Yaktrax for hiking on the snow/icy trail.
Snowshoe on Rabbits Ears Pass
Rabbits Ears Pass is a beautiful scenic Highway that runs eastbound out of Steamboat and is a playground for adventure. This upper plateau is vast with trails to be explored via snowshoes or even cross-country skis and snowmobiles. A slam dunk adventure is to head out towards the "Rabbits Ears," two rock pillar features and a grandiose lookout point for the valley surrounding Steamboat. Get more info on the winter trails here.
Snowshoe Steamboat Lake Tombstone Trail
Looking to get off the beaten path? Explore the stunning Steamboat Lake State Park 30 miles north of town. This State Park is nestled beneath Hahn's Peak and sits on a pretty lake. Tombstone Trail is a pretty trail that travels around Steamboat Lake and can be explored by snowshoes or XC skis.
Related – Ski Trip Pack List
Hang Out At Snow Bowl
When you've had your fill of adventure for the day, there's no better family hangout than Snow Bowl. Snow Bowl is a restaurant combined with a bowling alley with an upbeat, hipster ambiance. They also have an amazing outdoor music venue which makes it an extra cool place to spend the evening during one of their concert weekends.
Go Snow Tubing
Snow tubing is an easy way to have a blast with kids…or unleash your inner kid. Seriously, snow tubing is surprisingly more fun than it sounds. You can snow tube in Steamboat at one of two locations: Saddleback Ranch or Howelson Hill.
Howelson Hill is a tiny resort just 2 minutes from downtown Steamboat that offers 1 hour of tubing for $30-35/person. Or, take a ride down "Yee-Haw tubing hill" at Saddleback Ranch for $45/person for 2 hours.
Related – Colorado Road Trip Itinerary: Rocky Mountain to Mesa Verde NP
Speaking of Howelson Hill, how about a fun day of skiing/riding here? Howelson Hill is actually the oldest established ski area in North America, giving Steamboat the iconic title of "Ski Town USA."
Though skiing at Howelson may not be the same experience as riding the big and famous Steamboat Mountain, get this…you can ski entirely free at Howelson Hill on Sundays. This an amazing way to squeeze in a small day of skiing without the big expense. All you have to do is stop into the Ticket Office to pick up your free ticket.
Ski free sundays also applies to nordic skiing here. Just stop into the ticket office as well.
Explore Emerald Mountain BLM
Emerald Mountain is a public BLM land and a vast trail network for nordic and backcountry skiing in the wintertime. The trails of Emerald Mountain provide expansive views of Mt. Werner and Sleeping Giant Mountain. Emerald Mountain public recreation area sits directly adjacent to Howelson Hill Ski Area which makes for one big extended trail access point.
Related – 8 Reasons to Visit Ouray, Colorado
Live Music and Dancing at Schmiggity's
Outside of the legendary WinterWonderGrass fest that comes to Steamboat each winter, Schmiggity's is the hit place to enjoy live music and good times. Schmiggity's has various genres of live music playing almost every single night mixed in with fun karaoke nights. Click here to see upcoming shows.
P.S. Schmiggity's is a 21+ venue.
XC at Haymaker Nordic Center or Lake Catamount Touring Center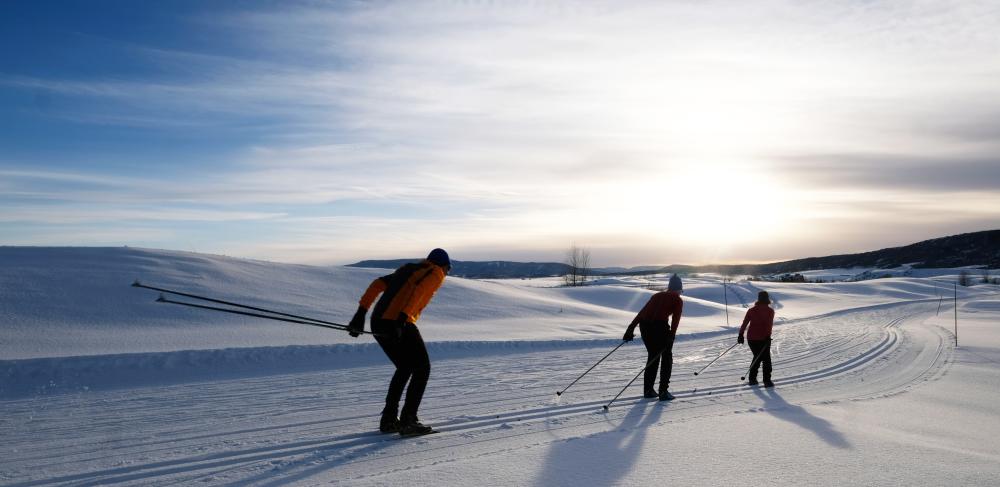 As if there wasn't already a ton of amazing backcountry XC skiing, there are also two great nordic centers in Steamboat.
See the Steamboat Springs Winter Carnival in February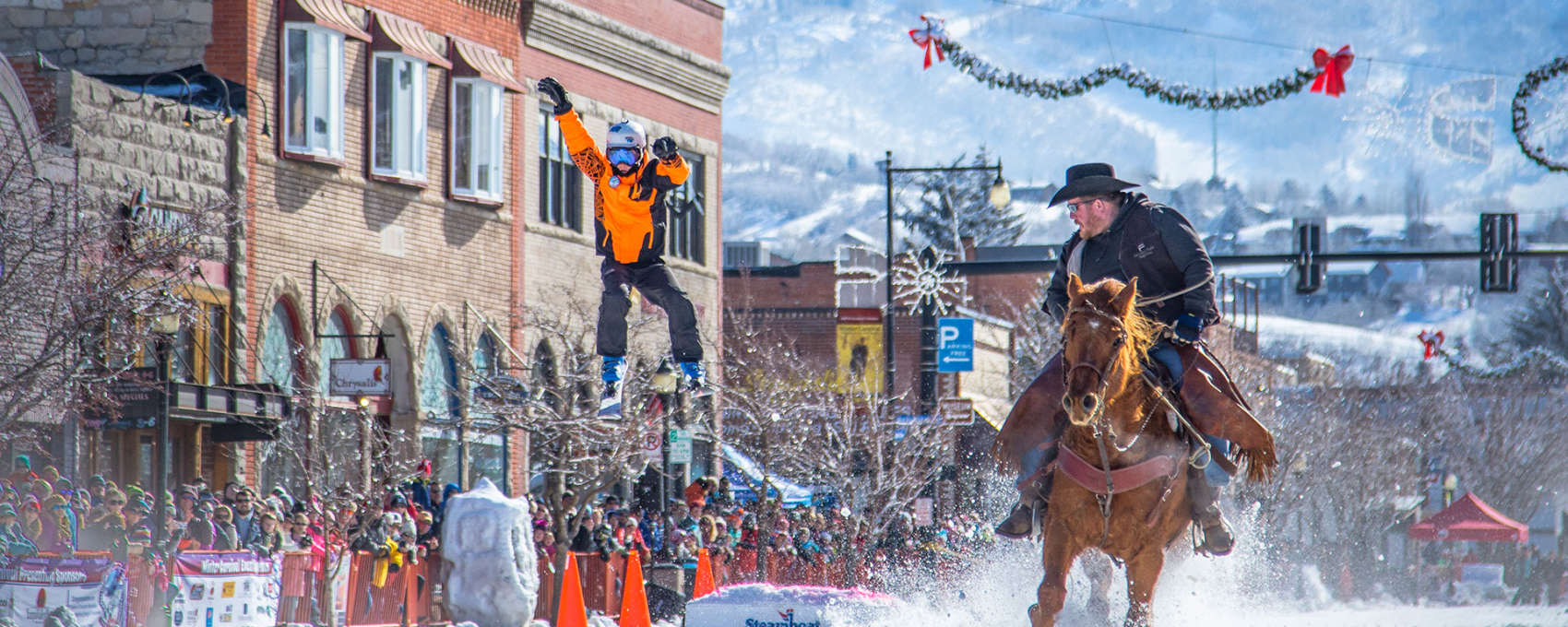 Headed to Steamboat in February? Join Steamboat to celebrate the 110-year tradition of the Winter Carnival, February 8-12. This carnival is more than just a parade and fireworks. It's a wild extravaganza also full of crazy ski and horse races and stunts. Think country rodeo meets ski fanatics and fireworks. And of course, there's plenty of great live music performances. Click here to learn more and get the street events schedule.
Related blog – 24 Things to Do in Silverthorne CO
Enjoy Craft Beer
No Colorado ski town is complete without a fair share of craft beer. After taking on one of the other great things to do in Steamboat Springs in winter, head to a brewery. There are multiple great breweries in the town of Steamboat: Mountain Tap Brewery, Storm Peak Brewery & Mahogany Ridge Brewery.
Storm Peak Brewing is easily our favorite post-adventure hangout spot due to the welcoming, upbeat ambiance.
Unforgettable Strawberry Park Hot Springs
The only place more relaxing than the wonderful Old Town Hot Springs is relaxing in the scenic outdoor mineral hot springs, Strawberry Park Hot Springs. This place is absolutely stunning, especially in the wintertime. So if you're looking to escape the crowds and reconnect to nature, make a reservation and come soak at Strawberry Park.
Reservations are free to make and required. Pool admission is $20/person on arrival. Note that in the winter, you need 4WD to get there or you have to take the shuttle. When you reserve a shuttle, you don't have to make additional pool reservations. Learn more on their website.
Where to Stay on a Winter Trip to Steamboat Springs
There are tons of great places to stay in Steamboat Springs whether you're looking to be close to downtown or in a secluded natural getaway. Use the search bar below to find accommodation that's right for you.
---
Related:
Save This For Later? Share it or Pin it!