From boating on Flathead Lake to live music & cherry festivals, there are so many fun things to do in Polson Montana!
Montana is easily one the most spectacular destinations in not only the USA, but in the entire world. People flock from across the globe to visit the esteemed Glacier National Park and with Yellowstone National Park sitting right on the state border, Montana is full of incomparable natural beauty.
While Glacier National Park and Whitefish Mountain Resort are popular tourist destinations, Polson is a little known gem on the southern shore of Flathead Lake that can't be missed! Polson is a summer lake haven full of boating, adventure, great food, music, and more! If you're planning a trip to Montana this summer, be sure to the check out these amazing things to do in Polson, MT.
28 Incredible Things to Do in Polson
1 | Go Boating
Boating on Flathead Lake is the pride and joy of summertime in Polson. You can rent a boat for at Flathead Boat Company or Polson Boat Rentals in town.
2 | Find a Rope Swing
While we're talking about boating, don't miss the amazing Flathead rope swings. No summer day is complete without swinging off one of the many rope swings that line the southern shore of Flathead River. There are about 3 different ropes along the river that are hard to miss in the summer because I guarantee there will be other people there swinging off the cliffs. Do note that getting up the cliff to start the rope swing does require climbing hand over hand on a slippery rocks so assess your abilities respectively.
3 | Farmers Market on 3rd Ave
If you visit Polson in the summer, you will have the honor of finding amazing fresh food at the local farmers market! The Polson farmers market offers incredible produce, local meats, fresh eggs, artisan foods, handcrafted goods, and more! From May through October, you'll find this market in the town center on 3rd Avenue on Fridays from 9am to 1pm.
4 | The Shoe Lakefront Bar & Grill
For the best food, views, and lively atmosphere, head to The Shoe for dinner, only a 2 minute drive from here. They have live music on Thursdays, Saturdays, and Sundays.
5 | Sacajawea & Salish Point Park
Sacajawea and Salish Point Park, which are right beside each other, are among the most beautiful places to hang out in Polson, Montana! At Salish Point Park, you'll find Polson's public boat launch but the next parking lot over offers a grassy area and a designated, roped-off swimming area that prevents boat traffic from coming near swimmers. There's also a free fishing dock here. Sacajawea Park rounds the corner and is a bit more secluded and offers grass, picnic tables, and a scenic sidewalk.
Related: Top 5 Bucket List Hikes in Glacier National Park
6 | Waterfront Camping at Flathead Lake State Park (Big Arm Unit)
Polson is conveniently located at the base of Flathead's forested hillsides and glacial mountains. Though many adventures are a full day getaway, one of coolest things to do near Polson is to go camp at Flathead Lake State Park. There are two Flathead Lake State Park locations but the Big Arm unit is our favorite and the best part is, it's only a 15-minute drive away. The state park has both reservable and first-come first-serve campsites that are waterfront and overlook the beautiful Mission Mountains.
7 | Riverside Park
Right beside Main Street, along the shore of Flathead River, Riverside Park is a great place to relax in the grass and play by the shore on a sunny summer day. There's a playground for kids and a designated, roped-off swimming area with a dock that makes for a fun afternoon.
Related: Grand Teton to Yellowstone to Glacier National Park Road Trip
8 | Finley Point Grill
For an intimate Montana dining experience, grab dinner at Finley Point Bar & Grill on the other side of town. Finley Point has the finest dining in Polson and by far the best burgers on Flathead. They also have great live music on Wednesday nights that we never miss when we're in town!
9 | Visit the Cherry Festival
The summer Cherry Festival is Polson's most popular event. It's even considered one of the top 5 attractions in Montana! Unsurprisingly, this festival is all about cherries and for a good reason. Polson is just a few miles away form a myriad of amazing cherry orchards all along the easter shore of Flathead Lake. From art to crafts, food, and treats, you wont be disappointed by the Cherry festivities in Polson! The event dates change year to year depending on the growing season. This year's (2022) Cherry Festival takes place July 30-31st.
Related: Tips for Visiting Glacier National Park
10 | Day Trip to Whitefish
No trip to Northwest Montana is complete without taking a day to explore the hard-not-love ski town of Whitefish. Whitefish is full of great adventures, dining, and shopping. In the summer, take a hike up the Danny-On trail and ride back down on the ski lift. You can also go mountain biking or hike to a view of Whitefish Lake. From Amazing Crepes to Wild Scoops ice cream and barbeque at Piggyback BBQ, there is delicious dining for all cravings. While Polson is full of cute shops, if you're looking for more cute stores, don't miss a trip up to Whitefish. From Polson, it's a 1.5 hour drive to Whitefish.
Related: Guide to Visiting Whitefish in the Winter
11 | Go to a Coffee Shop
Visiting a coffee shop in Polson is great way to get a taste of Montana life. On Main Street, visit Blodgett Creamery & Saloon for an upbeat ambiance. Or, for quality beans and down-to-earth locals, check out Good Coffee Co. There are also a variety of Montana-style coffee shacks in town.
12 | Wildlife Viewing at the National Bison Range
As one of the oldest wildlife refugees in the country, this is a must-see stop for animal lovers. More than 350 bison roam the plains beneath the Mission Mountains. This makes for a beautiful sight and even better photography opportunities. The refugee is also shared with many other wildlife such as elk, deer, pronghorn, black bears, and coyote not to mention all the incredible birds throughout Flathead Valley like eagles, hawks, meadowlarks, bluebirds, ducks, and geese.
Related: Top 10 Things to Do from Grand Teton to Glacier National Park
13 | Stop by the Mission Mountains View Point
Just a 15 minutes south of Polson (and along the way to National Bison Range), you'll find my favorite little viewpoint in all of Flathead. There is a designated viewpoint and pullout on the left-hand (east) side of the road. The viewpoint delivers the most incredible views you'll ever see of the Mission Mountains. You can see McDonald Peak and Mt Calowahcan up close in their glory as well as Kakashe and St Mary's Peaks in the distance.
14 | Get Breakfast at Mrs. Wonderful's Cafe
Mrs Wonderful's Cafe near Main Street is a quaint, cozy place to grab breakfast goods like omelettes, scones, and quiche. Their outdoor patio is a great place to spend a sunny morning before explore the lake!
15 | Go Whitewater Rafting
If boating on Flathead doesn't sound like enough adventure for you, don't miss whitewater rafting on Flathead River. Flathead Raft Co on Main Street offers guided river rafting tours varying from scenic rides to overnight trips. Whatever sort of adventure you're looking for, Flathead Raft Co has something for you!
Related: Best Epic Hikes in Bigfork, Montana
16 | Cruise up Skyline Drive on a Clear Day
If you're looking for a quick adventure to break up your day in Polson, Montana, go for a quick ride over Skyline Drive. This little known backroad is our local-favorite when we just want to get out and enjoy the views when we're crunched on time. Take this drive when the sky is clear for amazing views of the Mission Mountains and the vivid blue Flathead Lake.
17 | Go to A Rodeo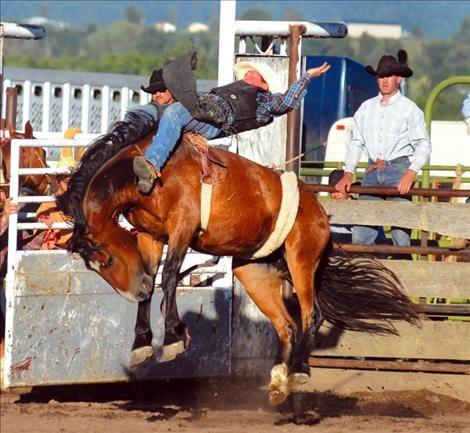 Polson is full of events in the summertime but the most quintessential Montana experience is to go to a rodeo. Polson has multiple rodeos that roll through the Polson Rodeo Grounds each year. In 2022, you can check out the Mission Mountain Rodeo at the end of June. There's also the Flathead River Rodeo at the end of August. Learn more about Rodeo events in Polson by clicking here.
18 | Day Trip to Lakeside & Somers
Highway 93 northbound to Whitefish is one of the most beautiful drives you'll ever take. Aalong the way there are 2 destinations you can't miss: Lakeside & Somers.
Lakeside is the first town you'll reach when driving north from Polson. Lakeside, home to Blacktail Ski Resort, is an even smaller town than Polson but has a few lively spots to explore. Drive up to the ski resort to go for a hike then finish the day with a craft brew at Tamarack Brewing Company or go for dinner with a waterfront view at Harbore Grill.
If lake days are more your thing, head north 10 more minutes and hang out at Somers Park, a stunning, secluded cove that offers even more incredible lake and mountain views.
Pro tip: Both Lakeside and Somers are great to visit by car, but they're even better to visit by boat. Ride to dinner at Harbore Grille in Lakeside or break up a day of water skiing at Somers Park.
Related: 50 Greatest Hikes in Glacier National Park
19 | Kayak to Wild Horse Island & Go Hike
One of the absolute coolest things to do in Polson, MT is to take a kayak trip out to Wild Horse Island in the middle of Flathead Lake. There are many different takeoff points along Flathead but for the shortest kayak paddle, start at the boat launch in Dayton. From Dayton, head southeast and make sure you go beyond the closer, smaller Cromwell Island to get to Wild Horse Island.
Wild Horse Island is a state park with designated landing point, hiking trails, and wildlife not to mention the iconic wild horses that give the island it's name. Dock your kayak at Skeeko Bay or Eagle Cove for the nearest access to hiking trails. Once you arrive at the island, secure your kayak, and pay the park fee. Now you can explore the entire island by foot, doubling the adventure.
Make sure you go early and pick a a day with good weather and low winds. Kayaking is no fun in high winds and chop.
20 | Ride At The Skate Park
The newly redesigned skate park just past Riverside Park can make for a fun things to do in Polson for kids whether they want board, bike, or scooter.
21 | Miracle of America Museum
The Miracle of America Museum, located on the south side of Polson, is an unusual attraction. From the random looks of the exterior lined with retro cars, planes, and engines, you wouldn't think the museum would be such a lovely surprise. This museum is dedicated to the preservation of artifacts of American history and promotes responsible citizenship. This is a great year-round activity in Polson MT for families and history buffs!
22 | Drive the Scenic Highway 35 to Bigfork
It's hard to pick a favorite scenic drive in the area because there are just too many to choose from but if I hadddd to pick, Highway 35 would be my favorite. On the east side of Flathead Lake, this highway takes you northbound along the base of the forested Mission Mountains to the town of Bigfork.
Along this drive, you'll be greeted with amazing up close views of Flathead Lake hat the road traverses next to. The best part is, there's a bunch of amazing local cherry stands along the road from July through August that you can stop by and purchase!
23 | Explore Finley Point State Park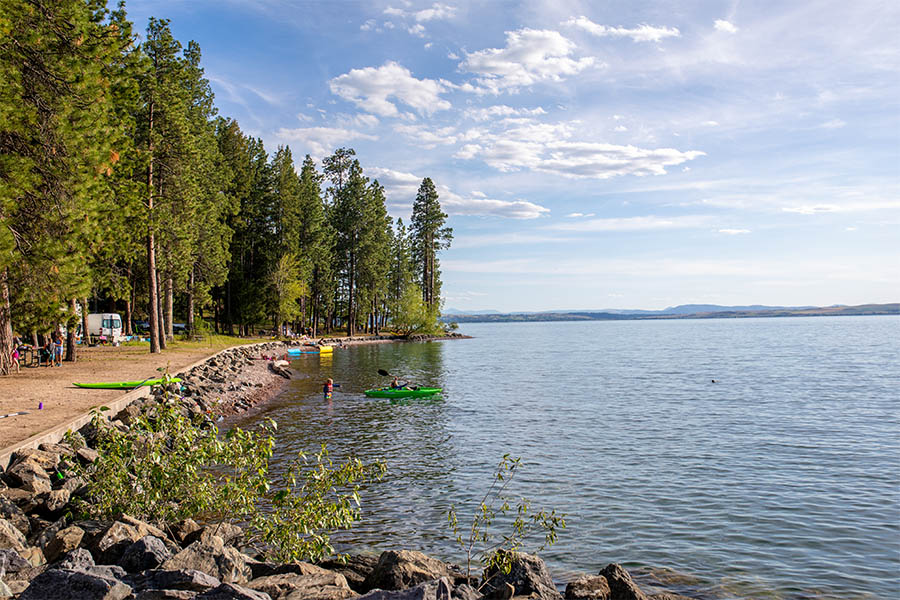 For small local adventure close to Polson, go explore Finley Point State Park. This state park has waterfront camping and easy hiking with views all the way north to Whitefish on a clear day.
24 | Hike The Mission Mountains
Enough with the views of the Mission Mountains. If you're like me, you want to immerse yourself in the mountains and go hike them! While tourists flock to Glacier National Park for hiking, the Mission Mountains are the best-kept secret of Northern Montana. The Mission Mountains are most commonly accessed from Bigfork. Only a 1-hour drive from Polson, these hikes can easily be done as a day trip.
Whether you're looking for an easy or strenuous hike, click here to discover the top hikes in Bigfork and find the right hike for you.
25 | Glacier Brewery
Looking for a down-to-earth place to grab a drink with friends on your trip to Polson? Glacier Brewery is the place for you! Glacier Brewery is the only brewery in Polson. While I can't say their beers compare to craft brew towns like San Diego (our ex-hometown), on a sunny summer day, they offer good beer with good vibes on their outdoor patio.
26 | See the Seli'š Ksanka Qlispe' Dam
Formerly known as the Kerr Dam, the Seli'š Ksanka Qlispe' Dam is the official dam that keeps Flathead Lake water levels high for summer fun. Though boating in the lake is the hit thing to do in Polson, seeing the dam from the other side of the headwater provides a beautiful view and a great thing to do in Polson MT. 390 stair steps lead you to an overlook. You'll see lush hillsides and rocky cliffs on either side of the vivid blue river. The overlook trail is open from April 15th-October 15th.
Related: Guide to Glacier National Park in September
27 | Eat at the East Shore Smokehouse in Polson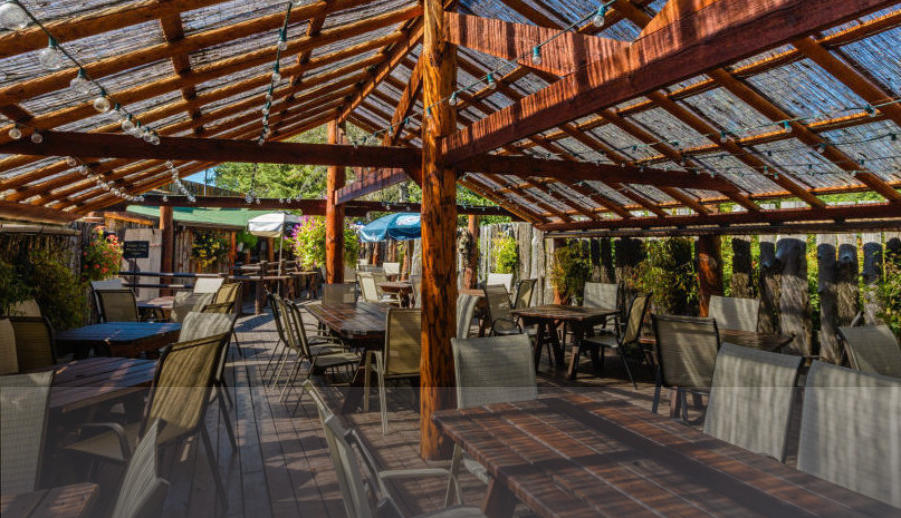 Right beside Finley Point Grill, the East Shore Smoke House is another top choice for dining in Polson, Montana. This restaurants offers all the smoked goods you could want from brisket, to ribs, chicken, sandwiches, steak, and burgers. The Smoke House is best enjoyed on warm summer day when you can eat on their beautiful outdoor patio complete with twinkling lights and a stunning forest canopy.
28 | Take an Unforgettable trip to Glacier National Park:
Saving the best for last, you can't come all the way up to Polson without taking 1 day to explore one of America's most beautiful National Parks. Glacier National Park, also known as the Crown of the Continent, is an adventurers paradise. With 700 miles of trails, 5 park regions, and 1 bucket list scenic drive, there's so much to explore in Glacier National Park. Click here to discover the top 5 hikes in Glacier or for long-time visitors, check out the top hidden gem hikes in Glacier NP here.
Important to Know:
If you want to drive on the Going-to-the-Sun road you need an entry ticket from May 27 through September 11.
You only need 1 ticket/entry permit per vehicle ticket
Obtain an entry permit at Recreation.gov then search "Going-to-the-Sun Road"
For more information on visiting Glacier National Park from Polson, click here.
---
Like this blog? Pin it!