Spearfish SD might be the most underrated outdoor town in America. Here are 35 amazing things to do in Spearfish SD including top adventures, eateries & activities!
Located on the western edge of what might seem like a desolate midwestern state, is a town lush with forest, hills, and meadows that we'd say are comparable to the German Black Forest. Maybe that's why they call this region of South Dakota The Black Hills.
Things To Know About Spearfish, SD
Is Spearfish worth visiting?
Absolutely! Spearfish may not be super popular but it's growing fast because the truth is, there is so much to explore in Spearfish and the Black Hills. With climbing, hiking, fishing, camping, and mountain biking, adventurers will love it here and there's also so much nature that is accessible to all via scenic drives and scenic lodges.

Spearfish might seem like small town in the midwest but it's actually more of an upscale, hipster city that has maintained a small town feel despite the growing amenities. You'll find everything you need here for a trip from delicious food to exciting activities and great amenities.
What is Spearfish known for?
Spearfish isn't particularly famous for anything but it's best known for it's iconically beautiful Spearfish Canyon Scenic Byway.

This scenic highway takes you through a condensed and beautiful canyon of tall limestone bluffs, dense forest, and a beautiful river. Said to be older than the Grand Canyon, Spearfish Canyon is vast with opportunities for hiking, off-roading, and biking, and is full of gorgeous sights like waterfalls and viewpoints.

The creek that runs through Spearfish Canyon is also well known as the best fly fishing destination in South Dakota and one of the best in the west.
How long does it take to drive the Spearfish Canyon Scenic Byway?
To drive the entire length of Spearfish of Canyon Scenic Byway technically takes only 30 minutes.

The official scenic starts by taking Highway 14A south from Spearfish until you hit Cheyenne Crossing. It takes 30 minutes to get to Cheyenne Crossing if you drive straight.

In terms of how long you need, account for at least a whole day of exploring if it's your first time here because there are so many activities, hikes, and sights.
Where is Sturgis compared to Spearfish?
Sturgis is the direct neighboring town to Spearfish. Spearfish, a top American outdoor town, being directly next to the town famous for motorcycles, could almost seem like a weird clash but they're actually one great suburb
Is Sturgis worth visiting?
Visiting Spearfish during the weeks during and prior to Sturgis Rally can actually be worse because it's so crowded and everything is booked up. However, if you're a motorcyclist, attending the iconic Sturgis Rally could be an unforgettable experience.
Best Time to Visit Spearfish
Spearfish is an incredible destination to visit year-round destination. That said, the best time to visit Spearfish is early summer, June – early July.
Spring in Spearfish
Visiting in spring is nice to avoid crowds but it can often rain for days on end. Depending on your outdoor adventure needs, this could still be a fine option for you.
Summer in Spearfish
If you're looking to explore the outdoors, June thru September is the best time to visit.
Spearfish is one of those places that gets wicked hot in the summertime which had pros and cons. The pro is that all the lake and water activities are much more enjoyable however it can also be sweltering for hiking and exploring. You also may have to work around afternoon thunderstorms that are common that time of year.
Early summer (June) is kind of the best of both worlds. There are few crowds, it's warm for water sports (but not crazy hot), plus you can avoid the afternoon thunderstorms.
September is a beautiful time to visit because the weather is still pleasant, though a little brisk, and fall colors begin to grace Spearfish Canyon.
Winter in Spearfish
Spearfish can definitely be a wonderful destination in the wintertime due to the wonderful Terry Peak ski resorts and winter snow sports activities throughout the Black Hills.
Be warned though, Spearfish receives some of the most extreme winter weather in the west. The interesting thing about Spearfish is that you could have a sunny 50-degree day in the middle of winter then 48 hours later be dumped with 2 feet of snow or sleet and hail.
If visiting in the winter, best not to make plans too far in advance or at least, have some flexibility to shift your dates to avoid sever winter weather.
Also, note that Sturgis Rally usually takes place in late July or early August over the span of 10 days. Even if you're not attending Sturgis Rally, visiting Spearfish SD during this time is usually very crowded and can be an inconvenience when it comes to booking accommodation. Accommodations usually sell out during this time and/or rates are increased 2x-5x the usual rates.
Average Weather in Spearfish
January/February – Avg High 37° / Avg Low 16° – 4 Days of Rain
March – Avg High 47° / Avg Low 25° – 6 Days of Rain
April – Avg High 57° / Avg Low 34° – 7 Days of Rain
May – Avg High 66° / Avg Low 43° – 9 Days of Rain
June – Avg High 77° / Avg Low 53° – 9 Days of Rain
July/August – Avg High 85° / Avg Low 58° – 6 Days of Rain
September – Avg High 75° / Avg Low 48° – 4 Days of Rain
October – Avg High 60° / Avg Low 37° – 5 Days of Rain
November – Avg High 47° / Avg Low 26° – 3 Days of Rain
December – Avg High 38° / Avg Low 14° – 4 Days of Rain
Where to Stay in Spearfish SD
Spearfish Canyon Lodge
As you'll soon discover, Spearfish Canyon Lodge is the ultimate hub for exploration and things to do in Spearfish Canyon.
Nestled between the tall rock cliffs of Spearfish Canyon, with beautiful views, 3 waterfalls nearby, and the takeoff point for off-roading, fishing, and rock climbing, Spearfish Canyon Lodge is perfect for anyone on a trip to Spearfish. Plus, the lodge is a stunning getaway in and of itself even without all the things to do nearby.
Best Vacation Rentals
Personally, when we travel we always like to have access to our own kitchen and our own space of a home instead of a hotel.
If I were traveling to Spearfish, I would definitely look into staying at the cute, modern single-bedroom vacation homes at the Spearfish Cottages. These cottages include a full kitchen and are within walking distance of downtown. The only con is that they only have houses that fit up to 3 people.
Another great alternative if you're traveling with a larger group of 4 or a family of 5 would be this Luxe Spearfish Hideaway vacation home.
If you want to be close to the things to do in Spearfish Canyon, stay at this Black Hills Getaway which sleeps up to 12 people and is a fully equipped modern house.
Last but not least, if I had a big group, looking to sleep up to 10 people, I would check out this incredible, huge, modern home in Lead (just 20 minutes from Spearfish) with 4 full bedrooms and a private hot tub.
Best Hotel in Spearfish
If you're looking for more of a classic hotel stay, the Fairfield Inn & Suites by Marriott is one of the top-reviewed and most affordable stays near downtown Spearfish, giving you access to town and only a 15-minute drive to the canyon.
Best Budget Hotel in Spearfish
If you're looking to get out and explore a ton and just want the cheapest accommodation nearby, stay at the Travelodge by Wyndham.
Best Campgrounds Spearfish
There are so many amazing campgrounds in the Black Hills of South Dakota. Within Spearfish alone, there are 2 great camping options.
Spearfish City Park is a beautiful campground within walking distance of downtown. Sites at the City campground are in a beautiful forested meadow. There are partial hookup sites for RVs, full hookup sites for RVs, and there's a tent camping meadow.
Another option is the Spearfish KOA over on the north side of town. This campground is pricier but has access to luxury amenities plus a pool. This campground is also only a 1-minute drive from the shopping center with our favorite eateries in Spearfish.
There's also a ton of great camping options just outside of Spearfish if you want to venture off into the Black Hills.
35 Things to Do in Spearfish
1 | Drive Spearfish Canyon Scenic Byway
Spearfish Canyon Byway is one of the best scenic drives in America. Between Spearfish and Cheyenne Crossing, you'll experience epic views, outdoor adventures, fun hikes, and views of 3 stunning waterfalls.
Look into staying 1 night at the beautiful Spearfish Canyon Lodge. In the fall, Spearfish Canyon is a wonderful drive to see all the gorgeous trees changing colors.
2 | Stop and see the Bridalveil Falls
On your journey through Spearfish Canyon, be sure to stop and see one of the top sights, Bridalveil Falls.
The falls can be seen from the highway however there is a large parking lot on the west side of the road where you can walk over the observation platform for better views.
This waterfall is best seen in spring when the water flows more intensely off the 60-foot cascade.
3 | Soak in the view of Spearfish Falls
The next waterfall you'll encounter on Spearfish Canyon Scenic Byway is Spearfish Falls. This waterfall is not as obvious as Bridalveil and requires a short 5-minute hike.
On the north side the Latchstring Restaurant & Inn, you'll find an obvious trail that takes you down a gorgeous of Spearfish Canyon Falls surrounding by limestone rock and lush greenery.
This waterfall is beautiful in spring and summer but is by far most beautiful during autumn colors.
4 | Hike to Roughlock Falls
Located close to Spearfish Falls, Roughlock Falls is a smaller, two-tiered waterfall. The surrounding green meadows make the viewing area look fairytale-like.
Roughlock Falls is best accessed via a pleasant short hike from Spearfish Canyon Lodge. Linking this together with Spearfish Falls makes for a lovely 3-mile walk with two amazing falls. Learn more by reading our best hikes in the black hills blog.
If hiking isn't your thing, a well-graded 1-mile dirt road from the junction at Spearfish Canyon Lodge will bring you right up to the viewing area of Roughlock Falls.
5 | Hike Devil's Bathtub
Looking for a bigger adventure? Don't miss the Devil's Bathtub hike, an under-the-radar gem in Spearfish Canyon. This is an adventure that involves more than just a walk along the river.
To reach the Devils Bathtub, you'll follow a river for 2 miles but you'll also have to cross the river about 10 times each way. Come prepared with hiking sandals or get ready to soak your shoes!
The reward at the end is a beautiful convergence of blue water that makes for a great place to go for a polar plunge.
Get more info on how to hike the Devil's Bathtub here.
6 | Coffee at Creekside Bean & Vine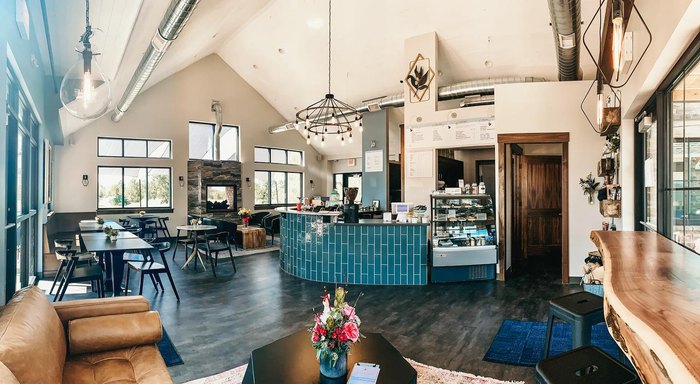 The Creekside Bean and Vine and an upscale, hipster coffee with high quality, specialty coffee and a positive local's vibe.
Located in a new upscale shopping center on the north side of town, this center delivers amazing vibes, great views of the lush green hills of Spearfish, and good food and drinks.
Every time we pass through Spearfish, we always make sure to stop to enjoy a morning drink on the patio.
7 | Pizza and Craft Beer at Sawyer Brewing Co
Located next door to Creekside Bean & Vine, Sawyer Brewing crafts some of the best beers of any microbrewery outside the west coast. I love their seasonal summer Smooth Operator sour.
Plus, they have amazing homemade craft root beer for kids and delicious pizzas.
8 | Burgers and Beer at Spearfish Brewing
Looking for a casual eatery in downtown, check out Spearfish's other top microbrewery, Spearfish Brewing.
In my opinion, Spearfish Brewing doesn't have the diversity of craft beer however, they have a lively ambiance and delicious burgers making it a great place to grab bite after a day spent exploring.
9 | Rock climbing in Spearfish Canyon
Many would never think the small little town of Spearfish in the western mid-west could be a hub for world-class climbing but it's true! Spearfish Canyon draws climbers from across the USA to enjoy the climbing routes on the limestone cliffs that loom over Spearfish Canyon Scenic Byway.
Experienced rock climbers can grab Mikel Cronin's Spearfish Canyon guidebook and go explore the canyon's amazing quality lines.
If you've never rock climbed before, Spearfish Canyon might not be the best place to get started, you're only a 1-hour drive away from one of the best places in the world to go climbing with a guide with Sylvan Rocks climbing Guides. The climbing here is unlike anything else in the world as you climb up spires that feel straight out of Middle Earth. Plus, the climbing is easy and guides will make sure you feel safe to have fun.
10 | Hike up Crow Peak
One of the best hikes in the black hills is right in your backyard when you stay in Spearfish. Considered the 2nd highest peak and the most strenuous in the Black Hills, this is the perfect hike for active travelers and adventure lovers.
The Crow Peak trail weaves its way up a steep hillside on the edge of the Black Hills and delivers views of the prairie land to the north, Wyoming to the west, and the forested hillsides of the Black Hills to the east.
11 | Get a drink at Crow Peak Brewing
Finished hiking Crow Peak? Grab a drink at the brewery that overlooks the peak.
This brewery has a bit more a rustic cabin and bar vibe. I'm not a huge fan of it however, they do have a wonderful outdoor patio where you can enjoys drinks with a view on a warm summer day.
12 | Get ice cream at Leonne's Creamery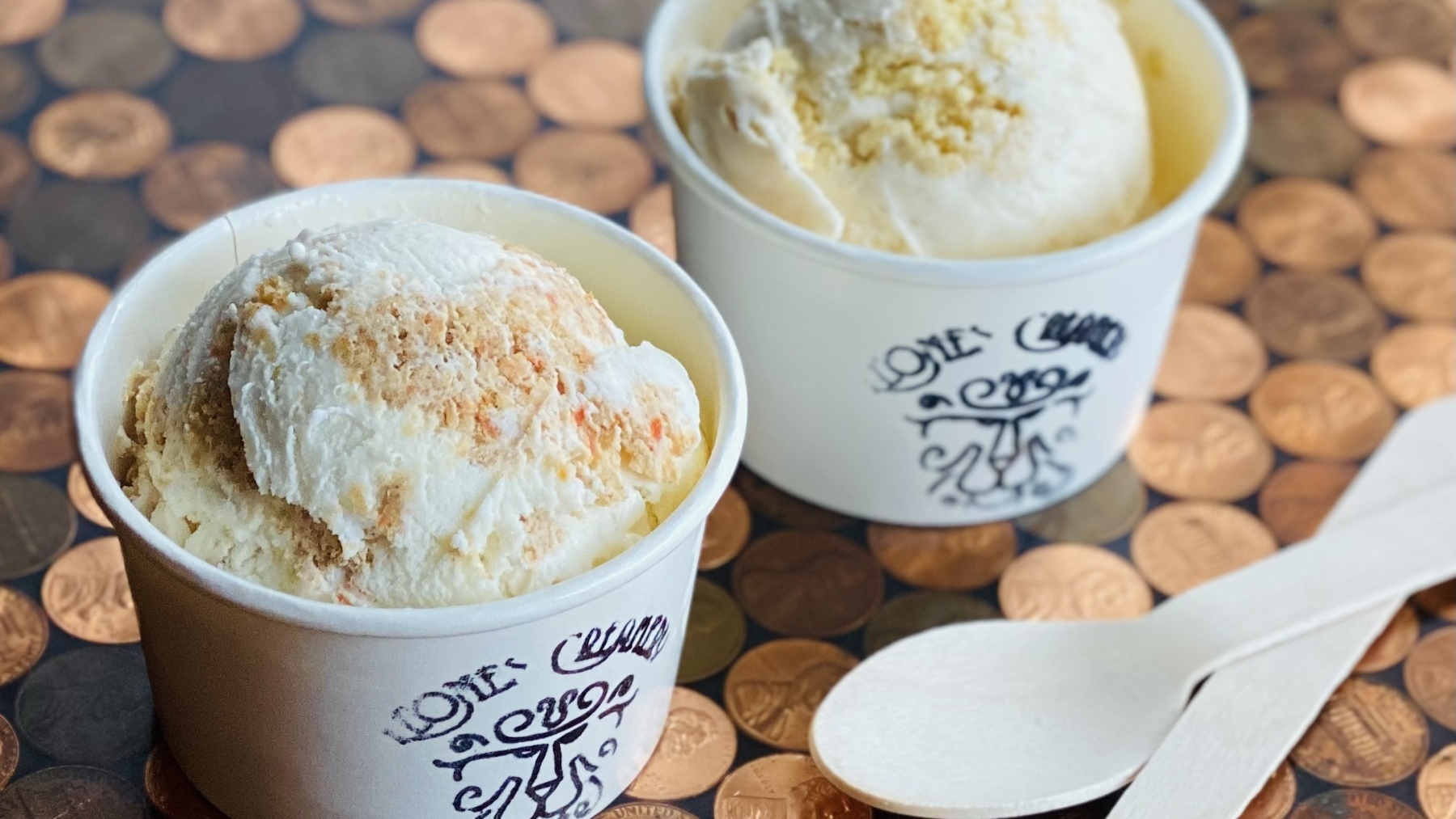 Though there's plenty of great places to get refreshing drinks in Spearfish, on a hot summer day there's nothing better than cooling off with a delicious artisan ice cream from Leonne's.
13 | Go off-roading in Spearfish Canyon
Spearfish Canyon Lodge is the hub for adventure in Spearfish Canyon, not just because it sits beside 2 beautiful waterfalls.
Spearfish Canyon Lodge is the takeoff point to explore the vast network of backroads.
You don't have to bring your ATVs to experience the amazing trail network! Spearfish Canyon Lodge AKA Spearfish Canyon Adventure Center rents ATVS right from the lodge.
You can enjoy a half or full-day adventure and go explore scenic viewpoints, and hidden backroads of the black hills that weave through forests and meadows.
14 | Visit Historic Deadwood
The Historic town of Deadwood is one of the most well-known destinations in South Dakota.
Deadwood is a bit touristy, but even for us who prefer outdoor-based travel enjoyed spending a day here.
Deadwood is an original cowboy town and one of the coolest things about Deadwood is the way they re-enact the historic things that happened there.
You can watch the Wild Bill Shooting re-enactment at Saloon #10 or see and Old West shootout in front of the Franklin Hotel.
We also enjoyed visiting the Days of 76 Museum.
15 | Get Dinner at Jacob's Restaurant
Before you leave Deadwood, grab dinner at our favorite eatery, Jacob's. Jacob's is a lively place to enjoy craft beer, burgers, and other food. There's a nice outdoor patio for sunny days and their indoor dining has good vibes and rock and roll vibe almost similarly The Hard Rock.
16 | Bike the George Mickelson Trail
The George S Mickelson trial is a 109-mile, mostly gravel trail that travels along the old Deadwood to Edgemont Burlington railway line. This trail isn't a technical mountain biking trail but is best ridden on mountain bikes. Highlights of this journey include long rock tunnels, converted railroad bridges, and stunning scenery.
Don't worry, you don't have to ride all 109 miles to enjoy this trail. There are 15 trailheads to access the path. The closest one to Spearfish is in Deadwood, 30 minutes away.
17 | Fly fishing on Spearfish Creek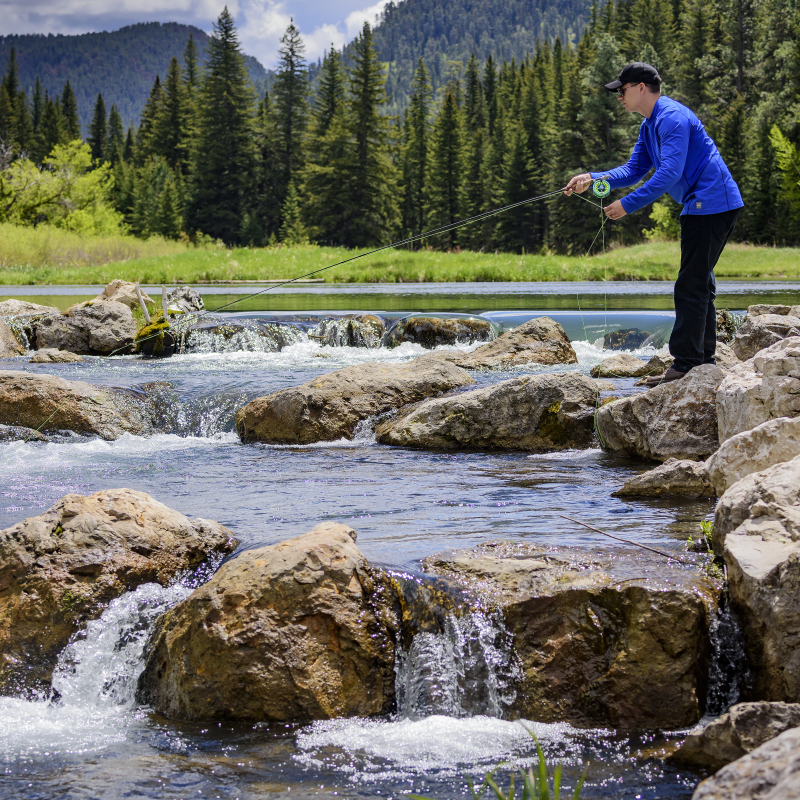 Spearfish Canyon has a beautiful little creek that runs through it that is very popular amongst fishers and even moreso, fly fishers.
If you're traveling to Spearfish and don't want to bring gear, Spearfish Canyon Ldige has a great package (available year round) where you can get 1 or 2 nights of lodging, 2 fly fishing pole rentals, and 1-day out-of-state fishing licenses. Get more info here.
You can also get local tips on fishing Spearfish Creek here.
Never fly fished before? This is a great and beautiful place to try! Fin Provisions in Spearfish offer guiding for $275 for 1/2 day for 1 angler ($100 per additional angler) and $400 for full day for 1 angler ($100 per additional angler).
18 | Mountain Bike Alakali Creek
A short drive from Spearfish, on the east side of Sturgis, is one of the best trail networks in all of South Dakota, the Alkali Creek network. This network contains almost 20 miles of singletrack trails with varying difficulties.
Some of the best rides here are The Grind, which is steep and challenging, and Bulldog, which is more technical and weaves through meadows and trees.
There's more technical mountain biking to be found in the Black Hills closer to Rapid City which you can see here.
19 | Hike or Mountain Bike the Centennial Trail
The Centennial Trail is a 111-mile technical single-track trail that travels from Bear Butte State Park in Sturgis all the way south through the Black Hills to Wind Cave National Park.
Featuring more than 2,000' of elevation change, this trail, especially as a bike ride, is not for the faint of heart.
If you're looking for a challenge, this is a great Spearfish adventure to tackle.
Click here for more info on the entire 111-mile Centennial Trail.
20 | Go boating on Pactola Lake or Sheridan
Pactola Lake is a beautiful reservoir located about an hour south of Spearfish. As the largest and deepest reservoir in the Black Hills, this makes it the best place to go boating.
Pactola is a more popular boating lake, however, their boat rentals often sell out months before summer. Plus, their water sport boat rentals are really expensive for the day.
If rentals are sold out or you're looking to rent a surf boat, check out boating on the less popular, but just as beautiful Sheridan Lake.
Rent a pontoon or surf craft boat at the Sheridan Lake Marina.
You can rent pontoons on Pactola Marina here or water sports boats on Pactola with Lakeboat rental here.
21 | Relax at City Park
You don't even need to go explore Spearfish Canyon to find peaceful nature. Spearfish City Park just a couple blocks from main street has a huge grassy meadowy area full of huge, beautiful trees. There are so many great opportunities for play and relaxation here.
There are tennis courts, basketball courts, a volleyball court, and a kids playground. My favorite part is the big trees that are perfect for hanging a hammock or even laying out an outdoor yoga mat and doing your own flow.
22 | Mountain bike Lookout Mountain Trail
Lookout Mountain is a small trail network that can be accessed right form downtown Spearfish. It offers single track trails with a variety a different ride lengths.
The best trail to hit is the New Blue, which has a mix of trails through the trees then open up to meadows and views of the city of Spearfish.
23 | Fresh produce from Cycle Farm
Between eating out at all the great restaurants and breweries near Spearfish, we love replenishing our vibrance with the amazing organic, local produce at Cycle Farm. A small farm stand only open 1-2 days a week.
Check Cycle Farm's current hours here.
P.S. They only accept cash and checks so come prepared!
24 | Go Inner tube down Spearfish Creek
No matter your age, inner tubing down a river is one the most fun ways to spend a summer afternoon.
Spearfish Creek, which begins in Spearfish Canyon, flows all the way down canyon and through the town of Spearfish creating opportunity for inner tube floating.
You can inner tube for free in small sections if you walk up the bike path by Spearfish city campground. Here you can ride down until you reach the fish hatchery.
Locals have told us of even better spots where you can drop-off and pick-up your inner tube riders for a long 2-hour ride along Spearfish Creek however, I frankly can't remember the locals' details.
Or, your last option is to ride the best part of Spearfish Creek by renting inner tubes at Wickiup Village.
25 | Mountain bike the Dakota Five-O Course
The Dakota Five-O is an iconic mountain biking race that draws riders from across the country. If you're an experienced mountain biker and feeling daring, challenge yourself to ride the 50-mile course in the hills just south of Spearfish.
26 | Cozy up at Green Bean Coffeehouse
Though we love Creekside Bean & Vine, there's something lovely about walking out your door to go get coffee.
We love that when we stay in Spearfish or camp at Spearfish City Park, we can walk or bike here. Green Bean has a cozy, coffee house feel that makes it great for a chill or cloudy morning.
27 | Eat luxuriously at Nonna's Kitchen
Looking for more delicious food than brewery bites, Nonna's kitchen will blow you away with their authentic, fine Italian dining right in downtown Spearfish.
28 | Take a yoga class at Spearfish Yoga, Cycle & Strength
Need some recovery or training to work off all the eating out? Squeeze in a yoga class or workout at one of the nicest gyms and studios in town, Spearfish Yoga & Strength. We were very impressed with the yoga class we took while visiting. There was a great ambiance, great mindfulness prompting, and a good vinyasa sequence.
29 | Visit Historic Lead
Neighboring the popular town if Deadwood is the lesser-known historic town of Lead. Lead is uniquely situated on the top top of a hill making the roads and sidewalks windy and hilly everywhere you go.
Lead, named for it's mining resource, was once a hub for the world's gold mining. The surprisingly pretty mines can be viewed at the Sanford Lab Homestake Visitor Center.
The old gold Rush town has gone through a bit of a revival recently and is the quite the hub for the arts. You can visit Lead-Deadwood Arts Center or watch a performance at Historic Homestake Opera House.
You can explore mining history at the Black Hills Mining Museum.
The downtown also features cute shops and restaurants.
30 | Explore Bear Butte State Park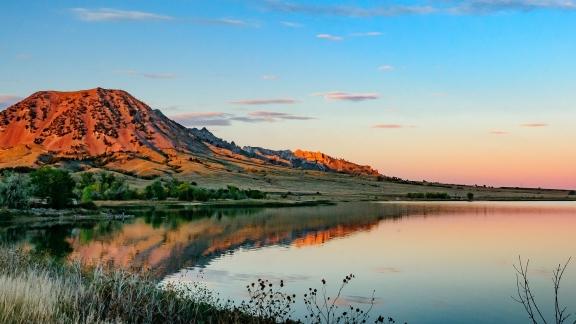 Bear Butte State Park, located just north of Sturgis about 30 minutes away from Spearfish, is a beautiful natural area to explore by hiking, swimming, and exploring. Bear Butte, considered sacred by multiple Native American tribes, features a Summit Trail up the Butte. There's also a Lake Trail that is part of the Centennial Trail.
There's also beautiful campsites here available on a first-come, first-serve basis.
31 | Swim & Play at the Aquatic Center
If you're ready for some classic summer fun, don't miss the amazing 2-acre waterpark at Spearfish Aquatic Center. With 3 huge water slides, a dump bucket, an adventure walk, and a lazy river, this aquatic center has fun for the whole family.
The waterpark is only open in the summer and costs $12/person to enter ($10/person for under 48 inches tall).
32 | Ski Terry Peak
If you're visiting Spearfish in the wintertime, go ride the slopes of the small, independent ski resort, Terry Peak.
Terry Peak is also part of the multi-mountain ski pass that we rode with in 22-23 ski season, Indy Pass.
33 | Attend the Famous Sturgis Rally
This is not the event for everyone but there's a certainly a reason why Sturgis Rally is famous.
After visiting the Black Hills myself, it's not hard to see why Sturgis is the hub for the biggest bike rally in the world. The scenic highways of the Black Hills are so beautiful it's no wonder people want to explore them by motorcycle.
There's really nothing spectacular about Sturgis itself, but it's definitely the taking off point for so many cool rides.
Sturgis is simply famous for the rally, not the town. Over 10 days, Sturgis Rally hosts races, contests concerts, and performances, plus booths and vendors.
Click here to read a blog about whether you should visit Sturgis Rally.
34 | Day trip to Mount Rushmore
No trip to South Dakota is complete without seeing Mount Rushmore at least once.
It's a surprisingly impressive sight to stand beneath Rushmore and see the intricate details carved into the rock.
Learning about the process of how they accomplished such a feat is something we loved.
35 | Day trip to Custer State Park
Last but not least, if you have extra time in Spearfish, it's worthwhile to make day or multi-day trip down to Custer State Park and check out the 22 amazing things to do there.
Though we love Spearfish, the Black Hills are really best explored on a road trip which is why we created a Black Hills travel guide that includes 3 and 7 day itineraries for travelers.
---
Related blogs:
Don't forget to share this or Pin it!